Get Two FREE Fitness Ebooks on Building Muscle and Burning Fat!
If you're new here, you will want to sign up for my newsletter to get FREE dating ebooks and mp3s along with exclusive seduction tips and videos. Thanks for visiting!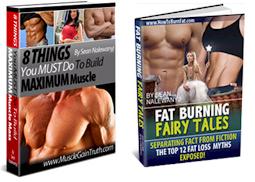 This week I'm adding two FREE fitness ebooks to my already HUGE library of free dating and fitness resources given to my newsletter subscribers…
Getting in shape makes us more attractive to women and helps build our confidence.
As winter approaches and we become less active, keeping our minds focused on staying in shape is more important than ever… and these two ebooks fill help you do just that!
They are about building muscle and burning fat and are written by fitness expert Sean Nalewanyj.
The names of these ebooks are "8 Things You Must Do To Build Maximum Muscle" and "Fat Burning Fairy Tales - The Top 12 Fat Loss Myths Exposed!" Combined they are 79 pages of free fitness material for you just for signing up for my newsletter!
Along with these, you'll also get the following 7 ebooks:
* The Facebook Pickup Method
* M.A.C.K. Tactics S.W.A.T. Guide
* 6 Steps To Looking Great
* Magic Bullets Sample Pack
* Flirt Mastery 75-page preview
* The Adonis Effect: Weapons of Mass Influence.
* How To Get Really Good With Girls
Oh yeah, you also get…
* My EXCLUSIVE 45-minute 1-on-1 audio interview with Brad P, the #1 PUA of 2008!

Sign up below and I'll send you these ebooks…
From time-to-time I'll send you additional ebooks and newsletters packed with seduction tips, offers and happenings…
It's totally free, private and you can unsubscribe at any time…
(Don't see the form above? Then click here to sign up…)
Finally, take a minute and check out Sean's new fitness site by clicking here…