Haters Gonna Hate… So Give Them More To Hate About…
If you're new here, you will want to sign up for my newsletter to get FREE dating ebooks and mp3s along with exclusive seduction tips and videos. Thanks for visiting!
I have a relative who moved to California…
He's young, good looking and wants to be a model or actor…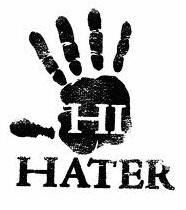 I follow his Twitter account, and 99.9% of his tweets are either:
1) Bragging
2) Bitchin' about "Haters" and "Fakes"
3) Religion
4) Family
5) Hating on Others
It seems like he tries to balance the good with the bad…
He brags about himself… then quotes a bible verse…
He bitches about how his family doesn't support him… then posts a family picture and mentions how they mean the world to him…
He's a hypocrite…
I'm a hypocrite for mentioning him here…
We are ALL hypocrites…
We want to see our friends, family and co-workers fail…
It makes us feel better about ourselves…
They say that's why trashy reality TV and talk shows are so popular…
We might be failing at life… but as long as we have company - we don't feel so bad…
But isn't all this "hating" counter productive?
Wouldn't it be better to focus on IMPROVING ourselves instead?
Yes, it would be a MILLION times better to fix our bad habits…
And while we are at it, HELPING others instead of HATIN'…
But facing our own fears and problems is HARD WORK…
It's easier to set back, be a coward and "destroy something beautiful"…
That's why I'm proud of YOU…
I'm PROUD of everyone who reads my lil pua blog…
Everyone who subscribes and reads my newsletters…
Everyone who "likes" me on Facebook and comments on my statuses…
They are swallowing their pride and ADMITTING they need improvement…
I admit that I need improvement…
And we are ALL taking the right steps to become better people…
For example…
Right now, you could be trolling someone on YouTube…
But you're reading this post instead…
You're reading this post to make yourself feel good by bettering yourself…
And NOT by trying to make someone else feel like crap…
My hats off to you… CONGRATULATIONS my friend…
Stick with it…
Stay positive…
Ignore the "haters"…
And good things will happen to you…
I promise.
It's casual,
Mack Tight
P.S. - Ask me questions on Facebook or Twitter and sign up for my free newsletter…
P.P.S.- Anyone with connections in who would like to hook my relative up, please let me know on Facebook…