Have You Traveled Enough To Be Satisfied Living Where You Live?
If you're new here, you will want to sign up for my newsletter to get FREE dating ebooks and mp3s along with exclusive seduction tips and videos. Thanks for visiting!
Do you live in the same state where you were born? Have you traveled enough to know what else is out there?
I just saw a map on The Atlantic site that shows the percent of people born in their current state of residence.
It ranges from only 24.3% in Nevada to 78.9% in Louisiana.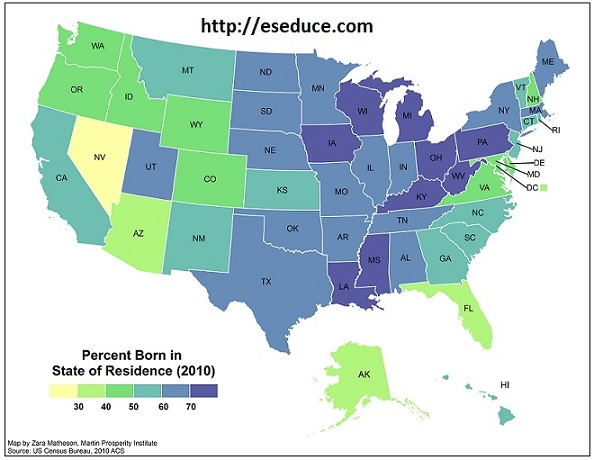 The writer of the article draws the conclusion that in certain states people are more "stuck" because they do not have the financial means to move. He goes so far as to refer to central U.S. as the "stuck belt".
I have lived in Wisconsin all my life and so has most of my family. They have the financial means to move, but they just don't want to.
I think the key thing to take from this is that you should really travel throughout your country before settling down. Even try living in different countries. Only then can you truly be satisfied with living where you live and know you're not missing out.
I plan on moving and traveling in 2012. Wisconsin is a nice state, just a bit boring. I think there is hotter women & weather out there. I think it's time for me to flap my wings.
Maybe a year from now I'll end up back in Wisconsin eating cheese curds at Summerfest. Maybe I'll end up living in your state, just down the road from you and we can "sarge" together as "wingmen"

Either way, I'll be happy knowing that I exited my comfort zone and gave myself the opportunity to see what else was out there. If I can do it, you can too.
It's casual,
Mack Tight
P.S: Sign up for my free newsletter and get a free texting game mp3.
P.P.S: Like me on Facebook and get a free Facebook Pickup ebook.
P.P.P.S: Follow me on Twitter and get…. nothing but killer tweets from yours truly