How To Alienate People By Preaching To Them
If you're new here, you will want to sign up for my newsletter to get FREE dating ebooks and mp3s along with exclusive seduction tips and videos. Thanks for visiting!
I just received an email and at the very bottom it says:
Please consider your environmental responsibility before printing this e-mail
Who does this person think they are… Captain Planet?!!?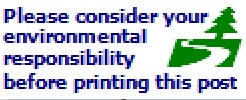 There was even a cartoon graphic of a tree and a river to strike home the environmental impact that reckless email printing causes…
What a bunch of bullshit!
Everywhere I go, I have people trying to guilt-trip me and tell me what to think… and it pisses me off.
Want to guarantee that you won't get laid? Then be judgmental of every woman you meet.
If you want to throw a grenade at your social circle just start lecturing to everyone about things like religion, politics and healthy living…
People don't like being preached to… and often you're guilty of the same things you're lecturing about…
For example, the person who sent me the email mentioned above is a chain smoker. I have absolutely no problem with smoking, it's a personal choice. But those cigarette papers they're burning come from Mother Nature too. At least I can recycle my printed paper.
This year try to make a conscious effort to stop making people feel like shit by lecturing to them.
I guarantee you'll see a dramatic increase in your social and dating life.
It's casual,
Mack Tight