How To Attract Women With MySpace Layouts
If you're new here, you will want to sign up for my newsletter to get FREE dating ebooks and mp3s along with exclusive seduction tips and videos. Thanks for visiting!

Here's an article by Race, co-author of Window Shopping for Women, on how to change your MySpace profile to get women to contact you…
—–
How To Pimp Out Your MySpace Profile to Pick Up Women
by Race (Hatch)
One thing that keeps popping up more than anything else is how to design a profile that implements all the little attraction secrets that get a girl super excited about talking with you. There are so many small things that add up to make a huge difference. Here is a breakdown of what your profile should included:
* Create a profile with style that shows off your best qualities and shows women what a fun, cool guy you are
* Embed things (such as photos, about me, who I'd like to meet) into your profile that will make you attractive and interesting to women
* Tweak certain things in your profile that will make you more mysterious and interesting to women
* Organize your photos and upgrade your captions to be funny, entertaining, and girl-friendly
* Set up and create a music player list that will hit on a nerve that makes women instantly connect with you
* Read through your comments to delete ones that are not congruent with your profile
* Write INDIVIDUALIZED About Me and Who I'd Like to Meet sections with statements that are congruent with your individual personality and identity to attract women that YOU are interested in
* Post unique Blogs that attract women and provide interesting things for them to comment and talk about
* Post bulletins that make women want to message you (perfect for keeping women coming back after they might have dropped off)
I know that seems like a lot at first but just take it step by step. Here is the profile design review section from our new book Window Shopping for Women:
* Your profile should communicate what you're all about
* Achieve social proof by having fun/flirtatious comments by attractive girls (there is a very specific technique for this that works every time. Email me if want it)
* Design your profile with your ideal girl in mind
* List all kinds of music and movies, do not be a tool. You can display humor even in this section. Show her your ability to like different things
* Have a list of false disqualifiers. This shows that you have standards, and as she reads your profile she will subconsciously try to qualify herself to you before you ever interact
* Have pictures of you doing a variety of activities. Your pictures should portray you as fun, sweet, crazy, surrounded by women, surrounded by cool men, a leader, artistic, adventurous, etc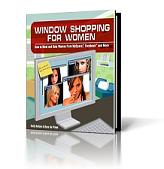 * Embed several pictures in your profile page (in your Interests or About Me section) as another way to advertise your personality and show the activities you enjoy.
We cover all this and much much more in our book Windows Shopping For Women…
It is the complete guide on how to meet and date women from MySpace, Facebook and more…
Windows Shopping For Women is the most brutally effective method ever devised for meeting women and creating effortless attraction … all at the click of a button!