How To Be Aggressive With A Girl You Like
If you're new here, you will want to sign up for my newsletter to get FREE dating ebooks and mp3s along with exclusive seduction tips and videos. Thanks for visiting!
One of the biggest problems I see with guys is that they are not aggressive enough with women.
I'm not talking about being aggressive like stalking or groping them. I simply mean initiating and maintaining interactions. And then keeping the relationship advancing.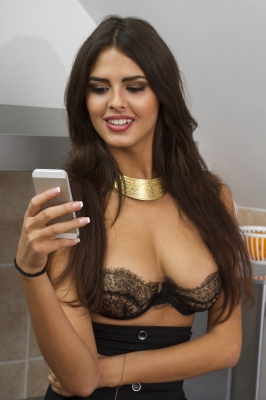 I used to really have this problem. I was way too passive. I hated calling or texting girls. I thought they should be the ones contacting me. I was out of touch with reality.
The burdens of dating all fall upon the man's shoulder. We have to approach the girl. We have to lead the conversation. We have to ask for the number. We have to ask for the first date. We have to go for the first kiss. We need to initiate sex. We have to propose to the girl.
It might not seem fair, but that's the way it is. High quality women are in the position where they can be passive, not men like us. It's the way our society is set up. You can bitch all you want, but it's best just to suck it up and accept it.
So if you tend to be passive, the first thing you need to learn is discipline. Force yourself to be punctual.
If a girl sends you a message, give yourself an hour to reply. Better yet, reply right away.
I used to always overthink my responses. I didn't want to give the "wrong" response. I didn't want to seem "needy" and reply too quick. So I'd put off replying. Hours would go by. Days would go by.
These women were NOT hovering over their cell phones for days eagerly waiting for my reply. They were busy interacting with other guys.
Here's my first rule for the "passive" man:
It's better to reply fast than to wait to send the "perfect" reply.
This came into play a lot with online dating. I would get a message from an attractive girl. I would spend a day coming up with the perfect reply. When I was finally ready to send the reply, she had already taken down her profile.
After you get used to forcing yourself to respond quickly, the next step is to take the lead.
Look through your Facebook friends and phone numbers. Send texts and messages to those you haven't spoken to in a while. Try to line up dates with them.
Talk to the girl a the checkout lane. Talk to the barista at Starbucks. Ask her for her number. Be aggressive. Take initiative. Prepare to be shot down. But ultimately you'll be surprised by the compliance you'll receive.
In conclusion, take the lead. Stop being a slacker. Interact with women more timely and initiate more conversations.
Don't set on your ass in your apartment and expect hot girls to break through your wall like Kool-Aid Man. I want you to take initiative and break down the walls yourself!
It's casual,
Mack Tight
P.S. Sign up for my free newsletter to get daily dating tips to help you meet and succeed with women!
Image courtesy of patrisyu at FreeDigitalPhotos.net