How to motivate yourself to get off your ass
If you're new here, you will want to sign up for my newsletter to get FREE dating ebooks and mp3s along with exclusive seduction tips and videos. Thanks for visiting!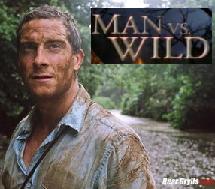 Friday I was feeling particularly lazy and didn't want to go out.
Instead I was setting around my apartment drinking beer and watching Man vs. Wild on the Discovery Channel.
If you are not familiar with the show, it features a survivalist named Bear Grylls who gets dropped off by a helicopter into a harsh location and has to survive on his own and make his way to civilization or to a rescue point.
On Friday he was dropped off in Zambia. He got diarrhea from eating grubs and caterpillars and had to defecate half way up a huge vertical rock formation that he was climbing by hand.
His clothes were filthy, his stomach was empty, he slept in a tree the night before and he was sick yet he pushed himself to hike through unfriendly terrain and risk death by climbing a cliff by hand because he knew he couldn't stop if he was to survive.
Let's compare that to my situation:
I had a closet full of clean clothes, I had a full stomach, I slept in a queen size pillow-top bed the night before and all I had to do to go to a club, bar or coffee house was to hop in my car and drive there on a freeway yet I was "tired" so I wanted to just lay around on my couch and watch TV on a Friday night.
What a fucking pussy I was!
Being "tired" was a bullshit excuse.
Getting out there and being social at times can be hard. But if you want to get laid it is ESSENTIAL. You can either push yourself to do it and try to succeed or you can give up and stay in your comfort zone and perish.
If I'm feeling lazy I just think of Bear Grylls and it puts things into perspective. It changes my attitude. It motivates me to get off my ass and go have a good time. I've got it good.
If you are looking to reprogram your inner game and get rid of similar limiting beliefs that are holding you back, I recommend checking out Carlos Xuma's Ultimate Inner Game program.