How To Use Your Tongue In Bed
Shawna Lenee is a former Penthouse Pet of the Year and current sex advice instructor for men…
She has a video program called 2 Girls Teach Sex that teaches guys how to satisfy women in bed - watch her sexy NSFW video about it here…
Here's an article by Shawna where she explains the 5 mistakes guys make with their tongue during foreplay and sex…
=====================
2 Girls Teach Sex Special Report:

The Top 5 Mistakes Guys Make
With Their Tongues!
Common mistakes guys make when using their tongue on a girl…
and exactly what to do instead to make her SCREAM!
By Shawna Lenee,
Creator Of 2GTS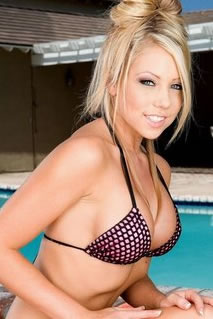 Hey Sexy,
I was just thinking about my ultimate sexual kryptonite…
And I decided… that it's DEFINITELY when a guy knows how to lick my body right! Hehe =)
BUT… the only problem is…
Finding a guy that ACTUALLY knows how to use his tongue is almost IMPOSSIBLE!
Can you believe that I've only been with one guy that REALLY knew what to do with that little thing?!
(And how long have I been in this business now…? COME ON!)
All the rest did the same AWFUL THINGS that I just can't STAND…
Your tongue is the strongest muscle in your body… but it can also be your WEAKEST if you're guilty of ANY of these mistakes…
So pay careful attention… because eliminating just one of them can mean the difference between you being a total dud to a complete STUD!



Mistake #1) Not Knowing The Difference Between FLAT and POINTED
A lot of guys think all they have to do is lick a girl and it'll feel amazing for her…
I'm sure when you're getting licked it feels GREAT no matter what

But if you think the same goes for us then you couldn't be more wrong!
For starters… knowing when to use a pointed tongue vs. a flat tongue is the MOST IMPORTANT THING TO REMEMBER when it comes to licking a woman ANYWHERE…
So here's a general rule that'll make her naturally wetter from having your tongue on her:
Use a flat tongue when…
- you're licking anywhere around her collar bone, neck, and shoulders
- you're licking the insides of her elbows, knees, or inner thighs
- you lick over her nipples
- you lick her outer lips "down there"
Use a pointed tongue when…
- you trace circles around her nipples
- you're separating her outer lips "down there" with your tongue
- you circle her clitoris with your tongue
- you use your tongue in her back door hole hehe =)

Mistake #2) Killing The Mood With Kissing
Knowing the difference between FLAT and POINTED tongue is key… but using them the wrong way can be the ultimate mood killer!
Especially if you don't know how to use it in her mouth.
I once had a guy stick his ENTIRE TONGUE in my mouth… and just leave it in there… I also had another guy just dart his tongue ALL OVER THE PLACE… even into my nostrils!
BOTH WERE JUST AS AWFUL AS THE OTHER!
If anything… just remember THIS:
If she has to wipe her face or chin afterwards…
YOU ARE TURNING HER OFF!
Now I don't want you turning ANYONE off or wondering where the hell you learned to kiss…
So when you go in for the kill…start first by gently sucking on her top and bottom lips…then lightly lick across each one…
When you can hear her start to breathe heavier and give little moans…ease your way into her mouth and slowly lick the underside of hers…
This is a REALLY good way to warm her up and give her a PREVIEW of how good you are with your tongue



Mistake #3) Using It In The WRONG Spots
OK… don't laugh… but I once hooked up with a guy who would get so turned on from licking my armpits…
Keyword: ONCE.
Now I can't say that EVERY WOMAN is gonna HATE having her armpits licked…
But if that's YOUR thing and NOT hers… you're in for quite the blow to your sex life… =(
The folds in the skin are generally the MOST SENSITIVE… so here are some guidelines to hitting the right ones and avoiding the wrong ones:
DO AVOID: the armpits, the nostrils, and any folds of skin that she may think is fat on her
DON'T AVOID: the inside of her elbows and knees, the underside of her breasts, her ears, where her thigh meets her pussy
Those are just a few of my own sweet spots… and I'm sure they'll be hers too =)

Mistake #4) Being Lazy or Stingy With It
Even if you know the difference between a pointed and flat tongue… and now know which spots to avoid on her…
If you barely use or move your tongue… you've got even BIGGER problems!
Some guys will only lick a woman's nipples and nether regions…
But did you know there are over 18 erogenous zones on the female body?!
That's 18 different spots that can get her wetter and wilder in bed for you.
So next time you're lickin her body up and down… work your way IN towards her nipples and naughty spot…
In fact… make sure to hit them last.
This will build her sensitivity… get her even hotter and hornier for you… and have her SOAKING WET before you even have a chance to lick it yourself


Mistake #5) Thinking It's The ONLY Thing You Need
Now… using your tongue the RIGHT WAY is definitely a fantastic start…
So now… let's talk about how to take things to the NEXT LEVEL…
After all… you don't want her comparing you to the "amateurs" she's been with…
So here's a Pro Tip

For me, I definitely like when a guy can REALLY lick and suck me down there til I cum…
But what I LOVE is when a guy can take it even further!
And I'm not just talking about penetration sex…
I'm talking about something this guy did…that made my heart feel like it was gonna pound RIGHT OUT of my chest…and made my ENTIRE BODY shake UNCONTROLLABLY…until before I knew it…I was just EXPLODING ALL OVER MY BED!
I don't think I'd ever cum so hard in my life!
What did he do?
He gave me my very first SQUIRTING ORGASM!
And trust me… it's something I'll never be able to forget =)
Click here to find out how he did it!
In these wicked hot video demonstrations, my friend Marcus London shows you how you can become one of the extremely limited number of men who can actually make a girl squirt…
Learn how to join this exclusive group here!
So good luck becoming the one guy who finally DRIVES HER OVER THE EDGE with the HIGHEST-LEVEL FEMALE ORGASM… and makes her scream loud enough to wake the whole block!
Your neighbors will probably be really mad at me for it… but she sure won't be.
Wet Dreams


Shawna
P.S. - If I could tell you myself how to do it I WOULD… =( So I BEGGED Marcus to show you how cuz I just KNEW this was something that would totally SKYROCKET your sex life to superstar status! So be sure to watch him take on the Squirting Challenge and show you exactly how it's done!
Want to know the secrets to give her a squirting orgasm?
Click Here And Learn How To Give
Any Girl a Full-Body Squirting Orgasm
The Techniques That Allow You To Give ANY Woman
"The Ultimate Female Orgasm"
The Very First Time You Try It!
CLICK HERE TO WATCH SQUIRTING VIDEO! (NSFW, 18+ ONLY)