Johnny Wolf, Speer, James Marshall, Carey and Vince Kelvin of PUA Summit on the KTLA Morning News Show
If you're new here, you will want to sign up for my newsletter to get FREE dating ebooks and mp3s along with exclusive seduction tips and videos. Thanks for visiting!
Johnny Wolf, Speer, James Marshall, Carey and Vince Kelvin of the recent PUA Summit all appeared on the KTLA Morning News Show…
In the segment, each PUA took their turn trying to pickup Jessica Holmes, a co-host of the show…
I got a LOT to say about this, so watch the video and read my comments below…
I first saw this video on Sinn's site where he basically bashes these guys and the PUA Summit (Wolf & Vince host that event, and the other guys in this video spoke at it)…
And then he uses it as an opportunity to pimp his upcoming Beyond Seduction Event…
Quote Sinn : "If you want to see Professional Speakers and actually learn something" then go to his upcoming seminar…
Hey Sinn, I agree that your seminar is probably the better bet of the two… but I seriously doubt you'd shine any brighter if you were on the show placed in that scenario… I know I wouldn't of…
But since the interweb allows me to be a condescending prick keyboard jockey, I'm gonna take full advantage of it…
~~~~ Mack Tight's Opinions on the KTLA PUA Segment ~~~~
- What the f**k was Wolf's dopey "snake" opener all about?
Was he pretending he actually had a snake? Was he pretending he was going to pull his dick out? If I was a girl, I don't know which would scare me worse…
- This James Marshall guy f**king ANNOYS ME…

The guy looks like a beatnik emo hippy… And the dude is so f**king skinny… EAT A SAMMICH TWIGGY!
The guy is expressionless, emotionless, low energy and CREEEEEEEPY if you ask me…
He's not a captivating speaker, his rhetoric bores me, and I have no f**king clue why Johnny Wolf is so eager to pimp this guy… is the barrel that empty?
- Vince Kelvin is a spastic Tazmanian Devil
I like Vince, but he's just too damn hyper… there's "PUA", there's "mPUA", and for Vince there's "ADHDPUA"…
Turn the knob down from 11 to about 6 in this environment…
There's a happy medium between Vince and Twiggy…
- Is it mandatory that Asian PUAs need to have a mohawk?
I wish I had Asian hair… it's straight, heavy, thick & round. Instead I have thin hair that curls like pubes when it gets longer than an inch…
With so much options with their hair, why do they resort to f**king Mr. T mohawks? Is it an "I'm short so I'll gain a few inches with tall spiky hair" thing? And what's up with the red hair? Kool-Aid belongs in your mouth, not in your hair…
- Speer bats cleanup and strikes out!
What a poorly calibrated line for such a cherry spot! I think the whole "everyone else is a loser except me" opener is total sh!t. I'm a fan of SHOWING and not TELLING when it comes to interacting with women… ESPECIALLY when opening. Once you show her you're a high value, cool guy… then you can blast away on all the chumps if that's your thing…
In this context, his opener was even WORSE. Everyone already KNEW he was a PUA just like the others!
- Jessica Holmes is a twat
I admit, hitting on girls in a set-up environment like this is lame. Either the girls are paid by a PUA to pretend to be "turned on" by everything he says or paid by some mass media company to be bitchy like Jessica in this case…
She just seemed like she enjoyed being bitchy a little too much if you ask me…
For penance, here's a video of her getting dumped into the "Splat Vat" back when she was the co-host of Nickelodeon's Slime Time Live…
- PUA's will do ANYTHING (including make a total ass out of themselves) for a little publicity
They'll go on Tyra, they'll go on The View, they'll go on Dr. Phil, they'll do dopey morning show segments that are set up to make them look like total douche bags…
It's like nobody has any integrity anymore…
"You want me to make myself and the pickup community look like total sh!t? SURE, just as long as you mention my name and website!"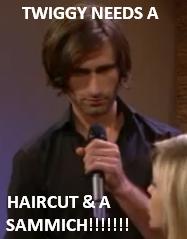 You f**king WHOREZ!
~~~~ Mack Tight's Conclusions ~~~~
Why did these guys free-willingly post this video of themselves?
Are they masochists or something?
I'm gonna finally conclude this by "pulling a Sinn"…
Subscribe to my newsletter, get free PUA sh!t, learn good "game"…
Whose the whore now?!?
It's casual,
Mack Tight