Ke$ha Bashes Old "Dinosaur" Men (Unless They Look Like Mick Jaggar)
If you're new here, you will want to sign up for my newsletter to get FREE dating ebooks and mp3s along with exclusive seduction tips and videos. Thanks for visiting!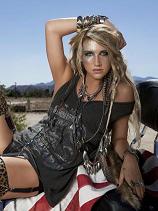 I heard the new Ke$ha "Animal" album recently (don't ask

) and there's a song on it called "Dinosaur"…
In it, the "Tik Tok" singer bashes older men who hit on younger women…
Here's a sample of some of the lyrics:
"Old man
Why are you starrin' at me
Mack on me and my friends its kinda creepy
You should be prowling around the Old folks home"
I find this odd from a girl who claims to "kick em to the curb unless they look like Mick Jagger"…
Because Mick Jagger is definitely NOT a dinosaur or anything…

Obviously these are just songs for entertainment…
So what does Ke$ha think about older men in REAL life?
Here's a quote of hers from Details magazine:
"I went to a club opening with Katy Perry about a year and a half ago. I saw David Spade, and I always thought that he was, like, so sexy in Joe Dirt. I just think rednecks are so hot. So I was like, "Oh, my God, this is my big chance! He's, like, my No. 1 if-I-could-I-would. David Spade, let's do this!" But then he kind of brushed me off, and I was like, "Oh, hell no." So I stole his bottle of whiskey and ran to the bathroom, and then they came and found me and threw me out."
Hilarious!
For the record, Ke$ha is 21 and David Spade is 45…
And Mick Jaggar is 66!
So what can us men take from this?
Don't get hung up on your age…
Keep plowin' those young 'uns… or else they'll just go with the next guy who is even OLDER…
Like Mick Jaggar

If you're an older man looking to pickup younger women… check this out for some sound advice…
Did I just make a post about some teenie bopper pop star?
Damn, what's next…
A post about a Justin Bieber song and how it relates to overcoming "one-itis"?!
It's casual,
Mack Tight
PS: Don't confuse David SPade with David SHade… David Shade IS kinda creepy looking and looks like he should be prowling around the old folks home…
Sorry Dave