Kezia Noble, Show Your Tits!
If you're new here, you will want to sign up for my newsletter to get FREE dating ebooks and mp3s along with exclusive seduction tips and videos. Thanks for visiting!
This is kind of funny…
Basically, Kezia Noble is a hot chick… and it sure seems like everyone in the pickup community kisses her ass because of it (even when they pretend NOT to)…
Let's be honest here, she could give shitty advice and guys would still blindly clap for more as long as her CLEAVAGE is showing…
Well, a couple weeks ago she posted a video on YouTube of her lounging at a pool at some swanky beach club in Hollywood in a bikini… A perfect opportunity for her to show off her #1 (and #2) assets…
Kezia Noble Hollywood Pool Party
The best part is the comments for the video…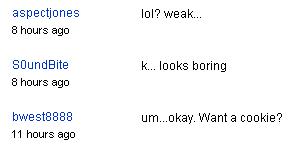 The moral of the story is - if you are going to make a "pool party" video… SHOW YOUR DAMN TITS!
Kezia at a pool without her tits showing is like me writing a blog post and not being a shallow abrasive asshole…
Now if you like Kezia, and not just for her tits, you'll get her new book "15 Steps to Becoming a Master Seducer" at Amazon…
If you're REALLY not shallow, you'll also get her album called "Little Bird" which didn't seem to make it out of the nest…
But if you ARE shallow like me, you'll wait until she posts a more revealing video and get her buddy Gambler's 4 Products for F-R-E-E in the mean time

It's casual,
Mack Tight