Learn Pick Up Artist Magic Tricks with P.U.M.A. Skills
If you're new here, you will want to sign up for my newsletter to get FREE dating ebooks and mp3s along with exclusive seduction tips and videos. Thanks for visiting!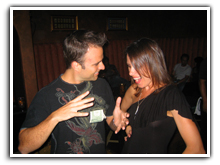 Mystery was a magician and used magic tricks to attract women in "The Game"…
In fact last year he was shopping around an idea for a 2nd reality show based on "attraction magic"…
Since then it seems like using magic tricks has gotten a bad rap…
But is that bad rap justified or is it just another target of natural game marketing?
Lets ask Criss Angel… wait, he's too busy juggling Playmates…
Brad Jackson believes you can build attraction by using magic when done right…
And he has created a program called "P.U.M.A. Skills" to show you how…
"P.U.M.A." stands for "Pick Up Magic Artist" and the program teaches you tricks you can incorporate into your regular game…
Click here to learn more about his program…