Look to Dane Cook for comedic conversational inspiration
On my drive back to my parents for Thanksgiving I listened to Dane Cook's new album Rough Around the Edges: Live from Madison Square Garden. I'm not obsessed with Dane Cook but I do find his material amusing.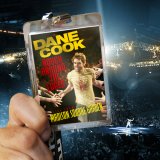 At Thanksgiving my college-aged cousins were telling me that they were going to see him perform in Minneapolis the next night. They were traveling hours and paying $60 per ticket just to see a 35 year-old tell jokes that they probably already heard him tell on a CD or DVD.
They apparently weren't the only ones because when I went
shopping on Saturday I saw high school aged girls wearing Dane Cook tour shirts.
Many guys cannot keep a girl's attention even after buying her a drink. Imagine having girls twenty years younger than you driving over an hour and paying you money to hear you talk. Never mind the fact that they would fuck him at a drop of a hat.
That is where we all want to be.
I think that half of Dane's popularity is because of genius marketing. The other half is from his
great story-telling skills, comedic timing and delivery. Sure, his looks might help too.
I think too much of my time is spent on worrying about what I'm going to say. More time should be spent focusing on how I'm going to deliver it. The best material delivered poorly is going to only be average.
If you haven't listened to his albums, I recommend buying them. They are entertaining and give you a good foundation on how to be a more entertaining speaker. You can get them at the links below.