Magnetic Mindset by Cory Skyy
If you're new here, you will want to sign up for my newsletter to get FREE dating ebooks and mp3s along with exclusive seduction tips and videos. Thanks for visiting!

Cory Skyy is one of the fringe seduction community instructors (he calls himself a "Life Coach") who I stumble across from time to time.
Cory Skyy claims to be a true natural who taught himself the qualities to be successful with women at age 12. He lost his virginity at 13 and slept with over 200 women by the end of high school. He refers to himself as a "bad boy with heart".
Recently, I've been checking out a blog where the author continuously talks about Cory's Magnetic Mindset audio program with high praises. I figured I'd look into it.
The program seems to focus on inner game and reprogramming your inner belief system. Once this is done, you will exude the traits that attract women to you rather than you having to approach them. They will be magnetized to you.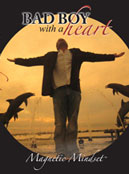 Rather than teaching techniques and phrases this program teaches you how to reinvent yourself as a man who "drips sexuality"…
The program includes 3 CDs that you listen to for 59 minutes a day for 90 days…
If women do not approach you after that, Cory promises your money back.
Magnetic Mindset sounds interesting, but the verdict is still out from me since I've yet to listen to the program.
You can find out more about Magnetic Mindset by clicking here…