Mehow set to release his Group Attraction Manifesto
If you're new here, you will want to sign up for my newsletter to get FREE dating ebooks and mp3s along with exclusive seduction tips and videos. Thanks for visiting!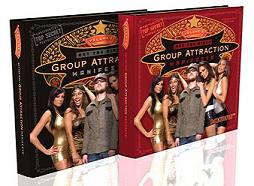 I remember making a post about Mehow last November with a video of him and all I got was closed minded comments like "nice mascara fag".
I kept making posts and the next thing you know everyone was promoting and blogging about Mehow.
When I meet my readers in person, guess which guru they demand I talk more about eight months after that first post?
MEHOW!!!
I can see why so many other gurus spread hate toward him. The guy has come in and become one of the five most marketable and profitable gurus in a matter of a couple years. And that is without his company even running regular bootcamps or seminars (that will to be coming soon).
The guy is a machine. Here's some examples of his past success…
…He took Mystery's teachings and enhanced and modernized them with his Get the Girl Manual.
… He revolutionized infield video with his Infield Exposed product.
… He took David DeAngelo's monthly Interview with Gurus subscription idea and applied it to DVDs with his Infield Insider program.
I guess we'll see if he can keep the ball rolling with the release of his new product Mehow's Group Attraction Manifesto which is to be released this coming Tuesday.
If you have not heard about Mehow's Group Attraction Manifesto, here's the scoop:
- The program consists of a 400 page 2-volume printed book. This is not an "ebook"!
- 10 audiobook CDs
- a 6 DVD infield training set
- several bonus manuals including Microloop Theory
- access to free training teleconference calls conducted by Mehow himself for the first 200 customers
I have all of Mehow's products and I think it is obvious to say that Mehow spares no expense when it comes to putting together a very professional looking and quality manufactured product. I find this refreshing considering most other gurus are charging big bucks for downloadable MP3's and PDF's that cost nothing to manufacture or mail. If they do create a physical product, it usually looks like it was slopped together with crappy burnt CDs and manuals printed at Kinkos.
As far as the actual content and topics of the program,Mehow's Group Attraction Manifesto claims to reveal:
- Revolutionary methods that shatter the "old school" rules of attraction, including "targets" And "negs"… allowing you to seamlessly attract multiple women at once… and then choose the "target".
- How to generate massive amount of jealousy almost automatically – creating huge opportunities
- The key to using kino – so women love you before they even know your name
- Over 20 PureKino routines, including revised versions of the classics and load of totally new and incredible routines… just one can get you the woman of your dreams
- A revolutionary training system, complete with homework exercises, infield and at home drills, and for the first time ever… video based at home drills
The above was taken directly from Mehow's press release and I have yet to get the product myself…
…BUT you can check out some sample videos yourself at his Group Attraction site.
Click on the picture below to get to go watch his first video: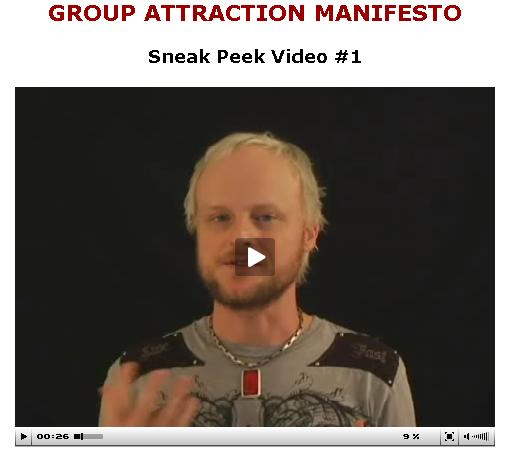 You can also see 8 additional free sample videos that he is releasing daily up until Tuesday.
He will also be doing a live teleconference Monday night so make sure to sign up for it now.
Click here to view all the sample videos from Mehow Group Attraction Manifesto and to eventually order it!