Mehow's Group Attraction Manifesto Release Information
If you're new here, you will want to sign up for my newsletter to get FREE dating ebooks and mp3s along with exclusive seduction tips and videos. Thanks for visiting!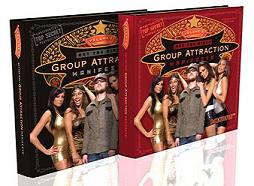 There was some confusion earlier in the week about Mehow's Group Attraction Manifesto release schedule.
It looks like everything is finally straightened out.
The Group attraction Manifesto will be released at 12pm PST this Sunday August 3rd. That is 3pm EST and 2pm CST.
To encourage you to buy it right away at noon, Mehow is providing a limited supply of introductory bonuses. I have no further information at this time about what these bonuses are or how many are going to be available.
Mehow has also released the final Group Attraction Manifesto video and a free 12 page excerpt from the Group Attraction Manifesto on his site. This excerpt focuses on his PureKino method.
Sometime today he is supposed to release an MP3 of this past Wednesday's Group Attraction Manifesto teleconference.
To view all this, click here to visit the Group Attraction site…