Mehow's Infield Exposed Thanksgiving Promotion
If you're new here, you will want to sign up for my newsletter to get FREE dating ebooks and mp3s along with exclusive seduction tips and videos. Thanks for visiting!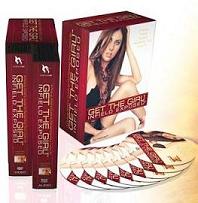 Mehow is offering the Mehow Get The Girl! Collector's Set free (normally $77) and a $100 off coupon toward a live Mehow boot camp when you purchase his Infield Exposed product by this Sunday.
Infield Exposed is an 8 DVD program that includes real infield footage of Mehow opening, attracting and closing women in a club environment along with footage of him later breaking down and explaining what exactly happened in the footage.
I personally own all this and recommend it.
Here's the info from Mehow on the rebate and the Get The Girl! Collector's Set…
When you grab up your copy of Infield Exposed BEFORE Sunday… we'll throw in Mehow's "Get The Girl! Collector's Set" - for free.

This Special Collector's Set Includes:

- The Limited Edition Get The Girl! Manual, Printed in FULL Color!
- The Exclusive Five CD Box Set of the Entire Audio Book, Read Word By Word By Mehow!
- The Complete Digital Version of the Audio Book for Immediate Download!
- Plus, A "$100 Off" Coupon Which You Can Use at Anytime to Attend a Live Mehow Boot Camp! (click here for the Mehow Boot Camp schedule)

And ALL of this is yours, our gift to you… when you order the groundbreaking, Infield Exposed DVD set!

Here's how to take full advantage of this generous offer:

Go to the Infield Exposed web site… and place your order, BEFORE Sunday at Midnight (PST).

Then forward your order receipt to - and use the subject line, "Thanksgiving Promo"

And, we will automatically include your GTG Collector's Set - for free.

It's just that simple!

So order today, and get the most advanced infield training product in the community AND Mehow's exclusive, "Get The Girl!" Collector's Set for nothing!

Click here to get to the Infield Exposed website…

Remember, we'll send the GTG Collector's set to you for nothing… once we receive your Infield Exposed receipt!