Guru Interview: Revolver Ocelot of Midwest Masters
If you're new here, you will want to sign up for my newsletter to get FREE dating ebooks and mp3s along with exclusive seduction tips and videos. Thanks for visiting!

I haven't repped my city of Milwaukee in a minute so I decided to do it by interviewing Revolver Ocelot, one of the most prominent and respected members of the local seduction community.
He's a busy guy but I finally got him to share some of his interesting views and opinions about pick up along with some info on his new business.
Would you give a brief autobiography and tell a bit about yourself?
My real name is Sam.
My Avatar is Revolver Ocelot.

Founder of Midwest Masters Date Coaching LLC.
I was born in Milwaukee WI and have spent most of my life here. Other than that, my time has been spent in Puerto Rico where my family lives and doing tiny bits of travel when the time and money permitted…California, Chicago IL, Calgary Canada.
I'm currently 25 years old.
Would you describe when and how you learned about the seduction community?
I learned about the "community" a little over 2 years ago.
Pretty much the same way everyone else did. The Game. I've read it twice, and to this day, would recommend it as a GREAT starter book for learning any kind of seduction tactic.
There's a small shake of everyone's style of game in that book. So from there, you can pick and choose from what teachers you'd like to learn from.
Here's the lay out. I was dating this great young gal for a little over a year. But I cannot tell you how broken up I constantly was over everything. I was getting no respect at work, I was following a career path that some one else was choosing for me, I had a great girlfriend that I had NO CLUE how to handle…so as a person, I was the guy with opportunities all around him that had no clue of what he wanted in the first place. That, to me, was super depressing at the time. I was just unhappy. I was the kid in high school that leaned toward the suicide attempts. I did this weird thing where I would literally closed-fist punch my self in the head repeatedly until I got tired or it just hurt to much…that was my silent anger. I bit my fingers to hell…that whole bit.
So long story short, after my girlfriend and I broke up, I had a TON of free time.
Just time to sit in my room.
I did a lot of searching on the Internet for dates. It worked out okay. I hooked up with a few girls and not much else.
I decided on a random ass week day to just get up and go to the mall. No reason other than to get out. I went to the book store…I'm still a bit of a coffee shop and book store junkie. I just love the chill ambiance.
When I walked in, I went straight to the relationship section, and the first book I noticed was the Leather cover with The Gold Lettering and that Red Silk book mark…and the rest is history.


What were some of your sticking points in dealing with women that you had before you learned about pick up and how did you overcome it?
My "sticking points" pretty much came down to tactics. I was pretty skeptical about any kind of method working and was just shaky over spitting lines to people.
And when it comes down to overcoming THAT…it's just a matter of doing it and realizing the truth of the situation.
What do you think is the biggest mistake that you see guys make in dealing with women?
Taking something too seriously. They build up the situation like a scene from gladiator and it just inhibits them from using all the great abilities they have as men. We have to realize that you can never EXPECT anything from people. And this is not to say forget trust, but it's to say that people have lives, you can't expect them all to tend to you.
I guarantee you'd be pissed if everyone did.
It's the most twisted part of human nature.
We want something good, but if it comes too easy, you value it that much less.
So until you find a decent medium in YOURSELF…you can expect to be confused.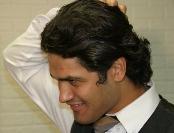 What is one of your favorite openers or routines that you like to use?
Fuck routines. I'm pretty tired of them. As a matter of fact, when I use to run stacks of routines, I found myself getting pretty upset knowing that I wasn't speaking my own mind. I'm not saying routines don't work. They're a great crutch for beginners…but after you use routines for a few months, you should be moving on to your own routines, then onto your own spontaneous conversational skill. That's how natural game is acquired.
Besides, I've been caught using the same lines more than once while gaming. That's pretty embarrassing.
But I guess as far as routines go…use Ross Jeffries stuff. Really GREAT STUFF. Super suggestive and also a great way to learn about emotional vs. logical interaction.
A lot of guys are prone to making excuses starting out. Would you name one excuse that you often hear guys use and describe how to overcome it or why it doesn't hold merit?
I'd really like to have a good answer for this one…but the number one excuse is a straight forward, "I can't."
NO excuse…just a straight statement of fear.
And again it comes down to discovering what you're capable of and forgetting that some sort of special line will be the reason you get women. There IS outer game. But it does not have to be someone else's game.



And to be honest, excuses hold merit only to the individual. If you're bald. You may feel that your hairless dome is holding you back. If you're not rich, you may think it's your car or just the idea that you can't afford expensive dinners, etc.
All excuses hold merit…only until you decide otherwise.
What interesting, nontraditional or unusual venues, events, locations or situations do you think are productive to meet and interact with women?
Jazz bars, Milwaukee's Summerfest (Day time, preferably less drunk gals there.), Malls, Local music acts, arts shows, The Hyatt hotel restaurant that rotates and gives you a great view of Milwaukee (night time), museums, dance classes, making her dinner at home and going out later (or vice versa), etc.
Do you have any tips of suggestions regarding phone game?
Feel free to talk without scheduling some sort of meet to see how much you can just talk on the phone. If you decide to invite her somewhere, do it on a high point in conversation. While she's laughing or while you've got her on a more sexual/romantically emotional topic. Pretty simple.
A lot of guys have problems with rejection which creates approach anxiety which hampers their opportunities to be successful with women. How do you suggest someone overcomes the fear of rejection and approach anxiety?
My experience with approach anxiety has brought me to believe that it does not exist. The community has actually made me MORE afraid to approach than before I discovered it. Mostly because I buried the need for a perfect approach in my head. I personally consider the term Approach Anxiety another excuse to not approach in itself.



If you need to get over that basic fear…approach with the intent to screw up. Say the goofiest junk you can think of. You'll be surprised you were ever afraid to just use a normal sounding line after doing something extreme.
What interesting articles of clothing do you wear when you sarge and what do you think is the biggest mistake guys make with clothes or grooming?
Sarge, ey?
I personally think the first most basic thing you need is to just be clean. CLEAN. Not necessarily shaven, or perfectly styled, just stay clean and fresh. Clean skin, fresh breath, a nice cologne. Simple.
After that, learn to dress the way you want to. The easiest way for me was to keep an eye on celebrities I admire and to just see what they wear and then try to spin off of that with some cool things I really like. I tend to have a thing for Kanye West (Chicago Rapper), and Revolver Ocelot (Fictional Gunslinger from Metal Gear Solid)…so now and then you may see me wear a combination of my typical fitted jeans and a dress shirt combined with a vest, a tie, and some wild looking Aviators.
Biggest mistake?
People that wear shit that is too big for them.
You have a body. It may not be a model's body, but it's yours.
Buy clothes that show your shape…fat OR skinny.
You just look better that way…and it sub communicates that you value yourself.
I had one reader who traveled all over the US for his job email me and ask me about the type of game guys use in Milwaukee. He said guys were very physical here and AMOGish compared to elsewhere. I never really thought about it until then.
Do you see the game in the Midwest being different than in other locations of the US?
I HAVE TO TOTALLY EFFIN' AGREE!!!
I've already had three close to fight situations THIS YEAR. This is BREW CITY. Tons of drunk guys are looking to one-up you. If there is anything I can't stand about this city…it's that. I'm a really laid back fellow. And the AMOG situation tends to be my greatest challenge. But if there's one place to learn a bit of AMOG lessons…this is it.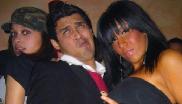 I usually have to hard core step up the humor and commanding voice for things like that.
I do think culture differences can change game up just a tad…but usually it's not too dramatic. I can still approach plain and simple where ever I go.
For example…California folks are super laid back most of the time and you can hang back a bit more as opposed to the midwest. But really, it's important to stick to the formula you use. Because you'll just tweak small things during interaction without the need to "prepare" for different kinds of culture. Culture changes…game does not.
You'll still find laid back sets in Milwaukee and you'll still find "AMOG's" in California.
It seems like most gurus and instructors are choosing to either teach natural or routine game lately. Do you teach or practice one over the other?
To be honest…I'm still not sure how to categorize my "style" of game. I guess I do lean toward the natural game seeing that I tend to be a pretty big fan of self-discovery and getting away from routines.
But I still do believe in the use of some practiced material for those that a very socially awkward and need a bit of stock lines to let them see how interaction moves.
More than anything, I want to teach a slice of everything and then REALLY PUSH students to make their own decisions rather than preach a style. Things like that create a blind loyalty rather than allow the student to discover for himself what he likes, and what he'd like to discard. From there, natural game is inevitable.
Would you describe the services your company offers, where they are taught and how they are similar and different than those offered by competing companies?
Seeing that Midwest Masters is still just a teeny blip on the "Pick Up" radar, just calling or e-mailing will be the way to get in touch. My venue of choice for classroom and one-on-one sessions is Delafield (editor note: Delafield is a suburb of Milwaukee). Quiet, great venues…I like.

The purpose of the one-on-one is focus. To run specifically through sticking points of one person and to give a bit more attention and anonymity. There is NO specific topic covered, it's all tailored to the student.
The classroom session is a covering of ALL topics game.
-Thought Processes
-The Approach
-Conversational Control
-Basic Body Language
-Humor
-Physical Escalation
More… I'd say come with an open mind, a note book, and a few questions in mind.
I do plan on creating boot camps by the end of the year. So it's only a matter of time.
As far as different. I'm not sure. I've been so caught up in my own stuff that I haven't been reading anyone else's material besides a little bit of RSD, E-seduce and books I choose.
Honestly, though. Just research a bit and decide for yourself. You realistically need to discover yourself and when it comes to classes or bootcamps…just take one. It shouldn't take a 10,000 dollar boot camp to get you a date. That's just absurd.
Get a class at a decent price and then practice the living crap out of what you know. Easy. You will be blown away at the results.
www.midwestmasters.blogspot.com
There it is, eSeduce's inaugural guru interview!
I want to thank Revolver Ocelot for answering my questions. I recommend anyone in the Midwest or elsewhere check his company and their blog out.
If you are a guru and are willing to do an interview please contact me.