MTV Jersey Shore Vinny Guadagnino's New "Control The Crazy" Book on Anxiety
If you're new here, you will want to sign up for my newsletter to get FREE dating ebooks and mp3s along with exclusive seduction tips and videos. Thanks for visiting!
On Monday, I made a post about MTV Jersey Shore's Vinny having anxiety problems…
I just found out Vinny wrote a book called "Control the Crazy: My Plan to Stop Stressing, Avoid Drama, and Maintain Inner Cool" which you can order at Amazon right now…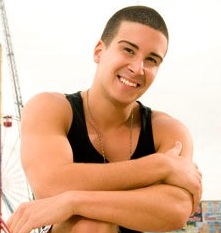 This self-help book is said to track the Jersey Shore star's own personal journey and struggle with anxiety disorder…
Vinny is promising that it BOTH helps those suffering from anxiety issues AND includes entertaining real stories from his life…
I ordered it because I like Vinny and anxiety hits home with me…
Vin says his anxiety started in high school… and I feel mine did too… contrary to what Mystery says, you're not HARDWIRED from our cavemen ancestors to have anxiety approaching and talking to women…
Anxiety is something we DEVELOP from being in certain environments and from events in our lives… and it manifests in your brain until you take active action to deal with it…
Hopefully Vin's book is better than the crappy bargain bin priced books pooped out by his Jersey Shore co-stars such as Snooki's books, J-Woww's book on how to land a juicehead guy, and The Situation's ridiculously titled book "Here's the Situation: A Guide to Creeping on Chicks, Avoiding Grenades, and Getting in Your GTL on the Jersey Shore"….
So check out Vinny's book if you want to get your GTZ on… Gym, Tan, Zoloft (bad joke? hey, I was an anxiety sufferer too… gimme a break!

)
Or else download this free report on eliminating social anxiety…
It's casual,
Mack Tight