My Christmas Present to YOU…
If you're new here, you will want to sign up for my newsletter to get FREE dating ebooks and mp3s along with exclusive seduction tips and videos. Thanks for visiting!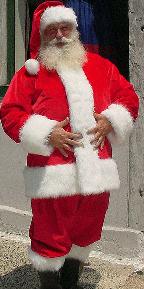 I want to wish you and your family the happiest of holidays!
To celebrate the holidays, I want to give you an audio interview I did with Brad P…
Also, I'll add 9 ebooks about pickup and fitness as "stocking stuffers" (you would need size 20 feet like Shaq to have room for all these *goodies*

)…
After the holidays, I'm DONE *giving* away all these products to everyone who signs up for my newsletter…
I mean, there's some *marketers* out there who are charging hundreds of dollars for products with this same material…
In fact, there's even some *subscription* sites that charge up to $40 per month just to get access to the information I give away for FREE…
Don't get me wrong, I'm still going to send out newsletters with the most current tips and happenings in the seduction community…
But I simply CANNOT keep GIVING all these ebooks and audio programs away…
All this free stuff is chewing up my monthly bandwidth!
But I'm going to wait until January 4th to worry about all that…
Until then, it's a free-for-all just by signing up for my newsletter!
In fact, I'm ADDING ANOTHER free audio interview to those who sing up from now until then… this interview is with Sinn…
So sign up RIGHT NOW because this offer ends January 4th!
(Don't see the form above? Then click here and scroll down to sign up…)
Don't worry…
You won't need to give your credit card number…
Just give me your name and email address so I can send you all these goodies…
No spam… No B.S…
You'll get a couple newsletters each week, along with all this stuff…
Audio:
* Sinn Interview (60 minutes)
* Brad P Interview (40 minutes)
Ebooks:
* The Facebook Pickup Method
* M.A.C.K. Tactics S.W.A.T. Guide
* 6 Steps To Looking Great
* Magic Bullets Sample Pack
* Flirt Mastery 75-page preview
* The Adonis Effect: Weapons of Mass Influence
* How To Get Really Good With Girls
* 8 Things You Must Do To Build Maximum Muscle
* Fat Burning Fairy Tales - The Top 12 Fat Loss Myths Exposed!
Just sign up here:
(Don't see the form above? Then click here and scroll down to sign up…)
Happy Holidays