Myths and Masters of The Game Review - Download Adam Brown's Book
If you're new here, you will want to sign up for my newsletter to get FREE dating ebooks and mp3s along with exclusive seduction tips and videos. Thanks for visiting!
There's a new book released today called Myths and Masters of The Game by Adam Brown…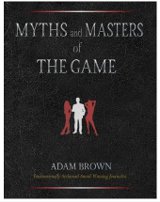 Adam refers to the book as "the unofficial sequel to 'The Game'"…
It's quite obvious that the cover is also trying to mimic Neil Strauss' popular 2005 book…
Like Strauss, it appears that Adam Brown is a well respected writer, photographer and reporter… he refers to himself as a "acclaimed investigative journalist"…
He's worked for The Associated Press and Bloomberg News covering many worldly political and humanitarian events…
"Myths and Masters of The Game" covers Adam's exploits as he recovers from a recent divorce by traveling the world learning from the world's best pick-up artists…
It includes shocking pick-up artist stories mixed with pick-up advice…
Get a free sample chapter here…
It seems like a lot of it revolves around Love Systems' instructor Mr. M and some "Project Rockstar" thingy he was putting on (anything NOT related to music with the word "rockstar" in it makes me *CRINGE*!)
Nick Savoy, of Love Systems, has also been mercilessly hyping "Myths and Masters of The Game"… so I expect them to be painted in a miraculously positive light in it…
For right now, the book is only available as a Kindle download… no biggie, paper books are a thing of the past…
Save yourself space and $ by buying a Kindle now…
…But if you want to stay "Kindleless" for now, you *CAN* read it like a PDF on your PC, cell phone, iPad etc by using the free Kindle apps and downloads (there's links to download them all on the right side of this page)…
…and let me know if the world really needs "The Game 2.0″!