NathanX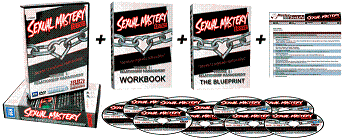 NathanX is the main instructor for Master Your Sex Life.
He educates men on improving their sex life by teaching tips and techniques.
He refers to himself as a "sex coach". He has also been a male escort and a porn star.
NathanX teaches Sex workshops with live sex techniques demonstrated at them.
You can also buy volumes of his video product called Sexual Mastery to watch and learn from in the comfort of your own home.
A new volume is released on routine basis. The following is the release schedule.
Click on the volumes that are available now to see a sample video and more info…
Volume

Title

Available

Sexual Foundations

- "The fundamentals of sexual mastery"
Relationship Management

- "Mastering the relationship connection"
Now

Volume 3.

Sexual Ecstasy and Performance

- "Mastering sexual desires & arousal"

Late 2008

Volume 4.

The Domination Method

- "Creating a dominate sexual dynamic"

Late 2008

Volume 5.

The Human Body

- "The anatomy of sex"

Late 2008

Volume 6.

Sexual Techniques

- "Mastering Sexual techniques"

Late 2008

Volume 7.

Advanced Sexual Techniques

- "Mastering advanced sexual techniques"

Late 2008

Volume 8.

Sex Aids

- "Sex toys, lubricants and protection"
Late 2008

Volume 9.

SEXercise

- "Sexual health, body, look, fitness and diet"
Early 2009

Volume 10.

Reclaiming Sexual Desires

- "Bringing back sexual desires"

Early 2009
Click here to go to the Master Your Sex Life site…