NathanX's Sexual Mastery For Men Volume 2: Relationship Management Released Today
If you're new here, you will want to sign up for my newsletter to get FREE dating ebooks and mp3s along with exclusive seduction tips and videos. Thanks for visiting!
Lately it seems like there is a new seduction product released every week…
This week it is NathanX from Master Your Sex Life releasing the second volume of his Sexual Mastery For Men course.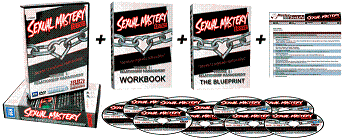 The first volume focused on Sexual Foundations while this volume is focused on Relationship Management.
It goes on sale at:
UK, 6:00pm, Wednesday, 20th August, 2008
New York, 1:00pm, Wednesday, 20th August, 2008
Los Angeles, 10:00am, Wednesday, 20th August, 2008
Sydney, 3:00am, Thursday, 20th August, 2008
The first 100 buyers get different freebies including one Sexual Mastery workshop and many discounts so click here to order…