Neil Strauss "Emergency" Book Review
If you're new here, you will want to sign up for my newsletter to get FREE dating ebooks and mp3s along with exclusive seduction tips and videos. Thanks for visiting!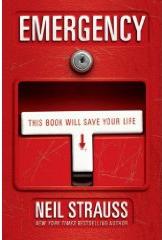 Neil Strauss is releasing his new book "Emergency: This Book Will Save Your Life" March 10th in the US. This marks his first full-length work since "The Game" back in '05.
It's described by the publisher as "one man's story of a dangerous world and how to stay alive in it".
The non-fiction title is about all the dangers in the modern world; terrorism, the economic downturn and climate change. Strauss decides he has had enough and investigates getting second citizenship on a Caribbean island along with learning how to shoot a man and get away with it, butcher and eat a goat and other 'survival' tips.
Wait… Neil Strauss is writing a "survival guide"?! I've had the impression that Neil is one of those guys who would call an ambulance over a hangnail!
I think this topic is a very odd choice for him. It's not very glamorous like his other books. I would rather read a book by Bear Grylls on such a topic…
That being said, Neil is obviously a great writer and hopefully he can pull the book off and make it interesting.
So far the only review is a glowing one from Rolling Stone magazine…
'The world is in crisis. If you're looking for an escape plan, this book is it.'
If my memory is correct, didn't Neil write for Rolling Stone?! Gee, I wonder if they may be a bit biased!
Here's the release dates by country, current prices and links to where you can order it…
US:
$10.42
March 10, 2009
Order it at Amazon
Canada:
CDN$ 13.86
Feb 27, 2009
Order it at Amazon CA
UK:
£7.91
2 April 2009
Order it at Amazon UK
Germany:
EUR 14,99
2 April 2009
Order it at Amazon DE