Neil Strauss is Getting Married to Indrid De La O
Neil Strauss (AKA "Style" PUA), the dude who wrote The Game - Secret Society of Pickup Artists, is getting married this coming Saturday (August 31, 2013) in Malibu…
Wait a second… you mean he didn't marry Lisa Leveridge 10 years ago!?!??! Was that preachy chick flick "being a pickup artist is bad, monogamy and wedding rings are good" homily at the end of The Game all just BULLSHIT?!?
I digress…
My research points to him marrying Ingrid De La O (or "Delao"). She appears to be a model and claims to be a "realtor". "Ingrid" makes her sound Scandinavian, while "De La O" sounds Spanish or French. I guess they've been dating for a couple years.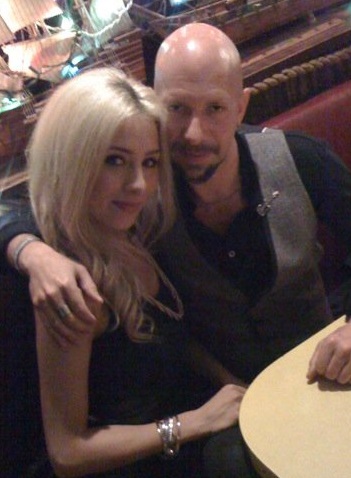 Apparently she was 26 years old in 2011… so that would put her in her upper 20s now. That is unless she's pulling the old Hollywood standby of shaving 5 years from her age.
Speaking of shaving years from their age, many online outlets claim that Neil Strauss is 39. *COUGH*bullshit*COUGH*
My leads say he's actually 44 years old. Neil Strauss's REAL birthday is believed to be April 4, 1969. I don't blame him for trying to appear younger though. By the way, my birthday was September 8, 2005… which means it's going to be my golden birthday in a couple weeks. For gifts, send me cash, Russian brides and bottles of Louis XIII de Rémy Martin.
And get this… Neil had his bachelor party at the Hollywood Forever Cemetery last Sunday. He bought a headstone and a burial plot and called the event "Death of a Ladies' Man."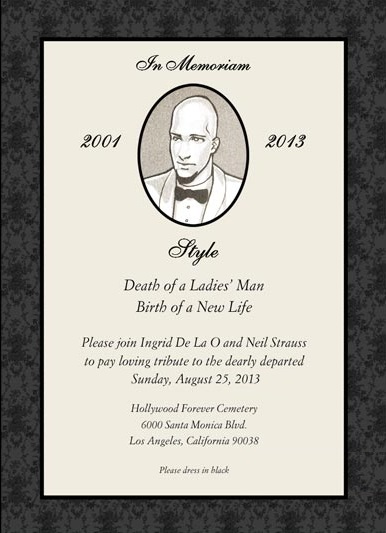 UTTERLY CRINGEWORTHY x9000!!
I feel obliged to give my 2 cents on how pathetically douchy this all is… but TMZ beat me to the punch with this…
R.I.P. Style. You'll be missed … said no woman.
Nope…. I can't leave it at that… I need to make a snarky comment…
I think the invitation printers messed up… it should have said "Death of a Lady Boy" instead…
Oh damn, did I just say that?

It's casual,
Mack Tight
P.S. In all honesty, I wish Neil and Ingrid a long, happy marriage. I hope you both grow old happy together. Just stay away from David Wygant, he seems like a divorce magnet. I kid, I kid Mr. self-appointed "real life Hitch"… please don't slap me to death with your floppy turkey neck