Nick Sparks Interview
If you're new here, you will want to sign up for my newsletter to get FREE dating ebooks and mp3s along with exclusive seduction tips and videos. Thanks for visiting!
The Social Man is a dating company for men focused on making men stronger and more successful socially.
The company is lead by the team of Christian Hudson, the shrewd business man, and Nick Sparks, the "hands-on" instructor.
Christian and Nick have planned on putting out a major product of their own for some time but they both got sidetracked with their involvement in the successful Conquer Your Campus program and corresponding interview series by Mark Redman.
Now the dust has settled and they are putting out their breakthrough program called "Unbreakable". In lieu of the program launch, I got Nick Sparks to tell a bit about himself, give some pickup tips and info on Unbreakable…
You're getting ready to release a program called
Unbreakable Confidence and Game.
What is that all about?
Unbreakable is really the product of Christian Hudson & I
working together this past year. We both come together with
a great amount of dating, seduction and pickup knowledge and
just as many questions about how to teach it best. So this past
year has really been us ironing out everything we knew and
answering the questions that were still unsolved.
Unbreakable is the product of that, and what we believe to be the
most comprehensive guide to all things dating, pickup and seduction.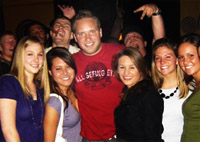 Tell us about your background and why you're teaching seduction?
I fell into teaching seduction by chance. I was lucky enough to have some experiences early in college that helped me to get a handle on this 'woman thing' a bit earlier than my peers and I was the guy that friends began asking for advice.
About two years ago I had the pleasure of reading The Game and realized that I could actually do what I loved doing as a full-time profession. Without much hesitation I set of on my new career path and haven't looked back since.
What's unique about what Nick Sparks teaches?
We'll I've never taken another bootcamp, but I've been told that my
curriculum tends to stress intricacies in body language and vibe more
than other guys' out there and considering the importance of it I suppose
I'm proud of that.
Plus I tend to throw most linear models out the window and show guys
how much he can get away with in a short amount of time.
If there were three things you could tell a guy who was just
starting to get better with women, what would they be?
1. Eye contact: You're never doing it enough.
2. A woman wants you to lead, both conversationally and sexually. If
you don't escalate things physically she's going to go find a man who
will. Often that's the only difference between making a connection or
not.
3. Focus on her. Women are the best thing for getting you out of your
head. Although your nerves will fight in, putting 100% of your
attention will get you in the moment and get rid of your nervousness,
as well as make her excited to meet a guy who actually listens to what
she's saying instead of thinking of the next three things he's going
to say.
How about giving one advanced pickup/seduction tip for the
guy who's been in it for awhile?
If you're tired of girls getting too clingy and ruining your single life, you
have to start being more honest with them from the beginning. Tell her
that you're loving being single and all of the amazing people you're meeting.
Encourage her to continue seeing other people. I'd even give her advice on
getting other guys. It wasn't easy but it was effective.
Keeping this going will make sure the relationship won't become too heavy
unless you want it to and more girls than you ever imagined will be even
more attracted to you for your strength and honesty.
What is your life like outside of the PUA community?
Other than work, my life is fairly laid back. When I'm not hanging out with
my girlfriend, I'm hanging out with friends who mostly include Christian and
some amazing past clients.
Of course, sometimes they still call on "the asset" to go warm up some girls
to introduce to my cute single guy friends.
I mean… I can't help it - I just love talking to women.
Thanks Nick!
Check out Christian Hudson and Nick Sparks' new
Unbreakable program by clicking here…