Sign up for the Nick Sparks and Christian Hudson conference call this Friday
If you're new here, you will want to sign up for my newsletter to get FREE dating ebooks and mp3s along with exclusive seduction tips and videos. Thanks for visiting!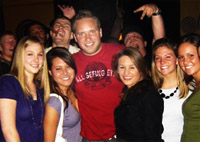 I don't know much about Nick Sparks but some are calling him the hottest new PUA of 2008. It seems like he is now an instructor for The Social Man.
He's from Chicago so I'm a bit intrigued by him so I signed up for tomorrow's (Friday) conference call with him and Christian Hudson.
Here is more info:
Join Nick Sparks and Christian Hudson for a conference call this friday at 6PM EST (5PM CST/3PM PST) for ninety minutes to hear Nick's story, to discuss sexual framing and dominant frame control and get a surge of social momentum for the weekend.

Just sign up and you'll be sent the call-in / webcast instructions. Can't make it at that time? Don't worry - we'll be recording the call and making it available for download, released exclusively to those who register here.

Get on the inside to discover why everyone he meets is buzzing about Nick Sparks bootcamps.
Click here to sign up for it now…