Nip/Tuck Season 5 starts next Tuesday at 10PM on FX
If you're new here, you will want to sign up for my newsletter to get FREE dating ebooks and mp3s along with exclusive seduction tips and videos. Thanks for visiting!
I can only think of a few TV shows that I have ever watched that have made me want to get off my ass and sarge minutes after watching an episode. The first two seasons of Entourage
, the first few episodes of Californication
and most of the episodes of Nip/Tuck
are the short list.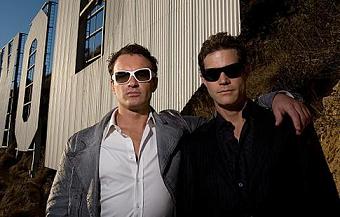 The show is about two plastic surgeons from Miami (although they move to Hollywood this season). Christian is an alpha-male womanizing bachelor while Troy is an AFC family man. They share a special bond. Christian tries to make Troy more alpha and Troy tries to make Christian more moral.
For four seasons the show hasn't backed down and turned to a chick show. Some of the plots are over the top and some are boring but overall I think it is one of the most consistent shows on TV geared toward an alpha-male audience.
If you haven't seen it yet, I suggest you start by buying the earlier seasons on DVD, HD-DVD or Blu-ray
. Then tune into FX next Tuesday at 10pm for the season 5 premiere.