Oral Sex Magic REVIEW ~ 50% OFF DVD Discount!
If you're new here, you will want to sign up for my newsletter to get FREE dating ebooks and mp3s along with exclusive seduction tips and videos. Thanks for visiting!
The girls at 2 Girls Teach Sex are back at again, and this time they are offering their "Oral Sex Magic DVD" program for 50% off for a limited time.
They are also offering Oral Sex Magic FREE when you purchase their Superman Stamina program.
Here's the links for the discounts:
~> Oral Sex Magic 50% Off (CLICK HERE TO GET DISCOUNT)
~> Oral Sex Magic + Superman Stamina 50% Off (CLICK HERE TO GET DISCOUNT)
If your on the fence about getting it, hopefully this quick Oral Sex Magic review will help you make up your mind.
Oral Sex Magic Review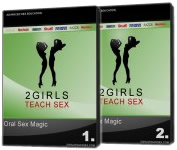 Oral Sex Magic is a 2 DVD program. You actually get mailed physical DVDs in a discreet package.
It features adult film star Jazzy Berlin and "her female friends" demonstrating different oral sex techniques.
In all honesty, this is not a "new" program. It's been available for some years. It was one of the first 2 Girls Teach Sex programs after 2GTS 1.0.
In my opinion, Oral Sex Magic did not get as much interest as the other 2GTS programs. Maybe guys are not all that interested in learning how to eat pussy. They would rather give a girl an orgasm with their dick rather than their tongue.
This is kind of unfortunate because being able to satisfy girls orally can really make up for other sexual deficiencies. It's a great equalizer for those guys who are not so well endowed downstairs. It doesn't take a long Gene Simmon's sized tongue to pleasure a woman.
Oral Sex Magic doesn't only focus on giving girls oral, it also covers getting blow jobs.
It teaches guys how to use psychology to:
* Make her swallow
* Get her to deep throat
* Give you road head
* Give you morning head
Every man likes to get his knob sucked. There's lots of tips and techniques on how to get her to do it more and better.
Oral Sex Magic doesn't stray from the typical 2GTS format. There's hot adult film stars who talk about and demonstrate sex advice. If you've liked their other programs like Asa Akira Teaches Sex, you'll like this one too.
Jazzy Berlin is a hot blond (see a half-naked picture of her here). She's not the best speaker, but they didn't hire her to talk if you know what I mean

Oral Sex Magic Review CONCLUSION
At full price of $97, I would say it is overpriced for only having 2 DVDs. I personally think $67 would be more sensible. So at half price, I think this program is definitely worth the $48.50.
In fact, I recommend the combo deal if you haven't yet gotten Kenni Style's Superman Stamina DVD program. For $97, you get both Oral Sex Magic and Superman Stamina for a total of 5 DVDs. That's a 50% discount and by far the best deal I've seen on Superman Stamina. Click here to learn more about Superman Stamina.
~> Oral Sex Magic 50% Off (CLICK HERE TO GET DISCOUNT)
~> Oral Sex Magic + Superman Stamina 50% Off (CLICK HERE TO GET DISCOUNT)
I hope my Oral Sex Magic review helped you make your decision. Feel free to send me any questions or comments that you might have.
It's casual,
Mack Tight