First Impressions of Paul Janka and his "Attraction Formula" Ebook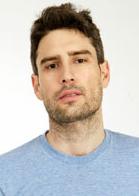 Here's the deal:
I live in Milwaukee, not NYC…
I don't watch The Today Show or Dr. Phil…
I don't read Gawker or Jezebel or any other female-centric East Coast gossip blog…
…and hence I don't know who the hell this Paul Janka cat is that every seduction blogger seems to be talking about.
My initial reactions are mixed…
He basically seems like Tucker Max 2.0 to me…
…another perfectly marketed controversial internet phenom where people don't quite know for sure if he is for real or phony. This only fuels their curiosity.
I'm always suspect to "outside" guys who are trying to sell seduction products without properly paying their "dues" by rising through the ranks of the community like everyone else.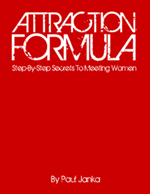 But I have to give this Paul Janka cat some credit; he generated more mass media buzz (good or bad, it is all "good") than 99% of the seduction gurus out there.
All I know so far about him is that he likes the "manly" Sonny Crockett unshaven look and he likes to brag that he fucked 140+ women.
Well, I have a professional job and need to shave and I'm unimpressed with his "score" and think bragging about the number of women you slept with is rather "douche-baggy".
If first impressions are important, he hasn't won me over…
…at least not yet.
I admit I'm curious. Maybe since he isn't part of the community his ideas will be totally different in a good way…
So I got myself a copy of his new ebook "Attraction Formula"…
In it he describes the formula he spent years perfecting that allowed him to go from being a 20 year-old virgin to fucking the magical number of women that is supposed to impress us.
You can check out his step-by-step formula that is supposed to work for ANY guy in detail by checking out his website by clicking here.
You can get a free 8 page pdf sample of the book by clicking here…
If you like what you see in the sample you can get the whole ebook with a 7 day free-trial period by clicking here…
UPDATE 12/16/2008:
I've finally read Attraction Formula and let me say…
I'm the most skeptical person there is but… It was AWESOME…
It was not a rehash of the Mystery Method like much of the material out there…
It is a new and unique perspective of the attitude and techniques that you need to be successful with women…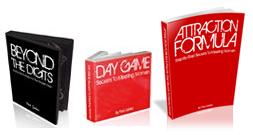 In fact his ebook was SO successful that he has followed it up with a new audio and a new video product…
Paul Janka Day Game: Secrets to Meeting Women is his 6 CD step-by-step guide on how to meet and attract women during the day based on his years of experience and practice.
Order your copy by clicking here…
Beyond The Digits is his new 6 DVD program that is packed with secrets to meeting women…
Paul is so sure that you will love it that he will let you try it out for a full 30 days before charging you for it… don't like it? Send it back and you won't be billed for it…
You can see free sample videos from it by clicking here…