Paul Janka goes speed dating for a sugar mama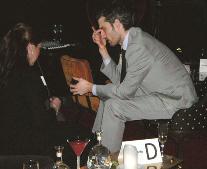 CNBC did a story back in February about a speed dating event that involved matching up younger "boy toys" with older "sugar mamas".
Here was the exact prerequisites…
Women had to be older than 35 and earn a minimum salary of $500,000–or have at least $4 million in liquid assets. The men, however, were judged solely based on their physical attractiveness.
Guess who was at this Manhattan event…
PAUL JANKA!!!
They even interviewed him and he had the following to say…
"I'm definitely interested in being surprised or wowed," says Paul Janka, a 32-year-old writer who authored an online guidebook for men called "Getting Laid in NYC."

"If anyone's going to do it, it's some of these women who have the assets and the resources to put together exceptional getaway vacations.

"Some of these more mature women have a lot of bedroom experience under their belt, so to speak, so that could be interesting to explore, too," he adds.

Isn't Paul Janka just priceless!!!
I wish I could bottle him up and sell him at a flea market…
Want to learn the secret ways of Paul Janka?!?
You can get his popular Paul Janka Attraction Formula ebook by clicking here…
He also recently released his 6 CD audio program "Day Game: Secrets to Meeting Women" which you can find out more about by clicking here…