Perez Hilton blogs about Mystery the Pickup Artist (PUA)
Perez Hilton, the celebrity blogger, wrote a blurb about Mystery just before Michael Jackson died.
If you don't know you Perez is, consider yourself fortunate…
Here is his post…
Pick-up artist Mystery attempted to demonstrate some of his skillz at Boujis nightclub in London Sunday night.

Apparently, one of his techniques involves knocking a woman's purse out of her hands and then stepping on it. When Mystery deployed his purse-knocking tactic that night, rather than retrieve the now douche-infected item, the victim "target" simply walked away.

Mystery, however, decided to keep the purse, finding that it matched the tacky goth cowboy ensemble that kept the ladies fleeing all night long!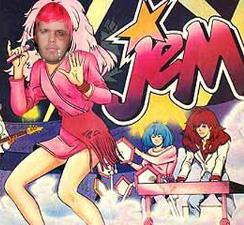 WOW!…. Raaaaawwwwl… HISSSSSSSSSSSSS!
Such harsh words by someone who got knocked the f**k out by someone associated with the Black Eyed Peas and cried like a little b!tch about it!
I also like how Perez rips on Mystery's "tacky" ensemble… Hello GLASS HOUSE, it's me STONE!
I'm sure Perez has broke every mirror that he has looked into, but let me help him out here: HIS ensemble screams "Jem and the Holograms"!
Anyhow…
Mystery is part of the Venusian Arts pickup company with Matador and Lovedrop… AND apparently some dude I have never heard of named "Blitz".
Blitz had this to say about Perez's nasty comments…
So, we just got finished with our London Bootcamp and it was a massive success. I guess we caused enough of a commotion where Mystery ended up on… the front page of Perez Hilton. Its very entertaining to read the hundreds of girls comments on how this "stuff" would never work on them. It's a common phenomenon for girls to talk all kinds of shit about Mystery and then end up falling in love with him after he decides to give her some attention. All in good fun, eh?

None the less its always a blast going out on the town despite what ignorant people may say, there is never a better time than hanging with some truly talented pick up artists.
I love the bit about "front page of Perez Hilton"… it's a f**king blog, not the Los Angeles Times! He makes like 30 posts a day and they ALL start on the front page DOOFUS!
To cut through Blitz's self-promotional fluff, Perez basically tried to insinuate that Mystery is a nobody…
BUT… his post REALLY means that the paparazzi is taking and selling pictures of Mystery… and Perez is buying them and making posts about him because they make him MONEY!
Yet NOBODY is buying paparazzi pics of Perez unless he is getting punched in the face…
Once again… glass houses my little Jem and the Holograms friend!
Please bring on MORE media bashing on the seduction community… I want to bathe in it!
Check out Mystery's site by clicking here…