Pickup101's Lance Mason Gets Married
If you're new here, you will want to sign up for my newsletter to get FREE dating ebooks and mp3s along with exclusive seduction tips and videos. Thanks for visiting!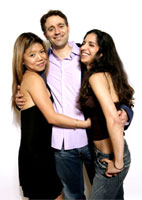 Word on the street is that Lance Mason of Pickup101 got married earlier this summer…
Congrats!
I saw a wedding picture and all I will say is that his wife appears to be relatively young (20-something maybe?) and she's Asian…
I believe that Lance is around 40 years old…
Good for them!