Player Supreme shows how to dance in a nightclub
If you're new here, you will want to sign up for my newsletter to get FREE dating ebooks and mp3s along with exclusive seduction tips and videos. Thanks for visiting!
Let me put it on the table…
No matter what You Got Served tried to tell you, I don't believe dancing ability is a major contribution to the lack of success that most men have with women.
In fact I believe dance clubs are a bad place to pick up women. I prefer bars where you can actually talk to a girl without screaming or without some drunk yokel bumping his ass into you to 50 Cent "In Da Club". If I go to a dance club I usually stay away from the dance floor.
But that being said, knowing how to dance is always a good thing and you will never know when it will come in handy.
Player Supreme gives a few quick tips in the following video…
I agree with his point that everything revolves around the beat. Even if you are tone def you should still be able to point out the beat and follow it if you make yourself conscious of it.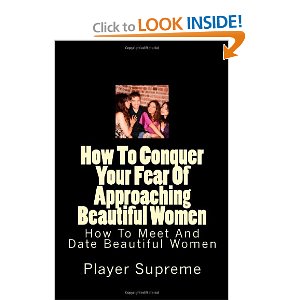 I think the issue with most guys in regards to dancing is the overall lack of confidence. If they are sober they feel socially awkward on the dance floor and think people are starring at them. They typically dance like they have a stick up their ass. Otherwise they are piss drunk and jumping around like a fucking obnoxious moron because they are too blitzed to be conscious of the beat or their surroundings.
I think dancing in your living room is a good idea. Work your way up to dancing in an uncrowded smaller club earlier in the night. Then move up to dancing in a crowded club with all eyes on you. You wouldn't throw a kid from the Pee Wee leagues into the Majors would you?
With this all being said, I have an important question to ask regarding this video…
When did the Funk Doc sellout and do a remix to a fucking Pink song?!? (I still love that Redman MTV Cribs though)
More importantly, why did Player Supreme choose a Pink song to dance to in this video?
What, couldn't he find his Fergie and Pusscat Dolls CDs or something?
Shouldn't he get his mack card revoked for this? I mean a real mack would whack the DJ for playing that Pink shit!
I kid, I kid…
You should check out Player Supreme's new book "How To Conquer Your Fear Of Approaching Beautiful Women: How To Meet And Date Beautiful Women" at Amazon…