Real Social Dynamics releases The Blueprint De-Coded
If you're new here, you will want to sign up for my newsletter to get FREE dating ebooks and mp3s along with exclusive seduction tips and videos. Thanks for visiting!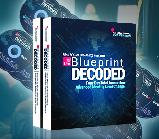 RSD just released their "Blueprint De-Coded" program. It contains 20(!!!) DVDs.
I like the fact that it is shot with a HD camera. This means it is sure to be widescreen, something seduction products in the past have been lacking.
I also am amused at some of promotional terms and ideas RSD uses. I find the use of the term "Brain Hemorrhaging" in association with the effect you'll receive after watching it rather unsettling.
I also find the use of "RSD dollars" quite amusing. The last time I heard someone using the currency created by a corporation was when we went to the strip club and my buddy used his credit card to get "Deja-Vu dollars".
It sounds like a kick ass program and I know a lot of people have been waiting a long time for this. I just don't know when I'm going to personally find the time to watch 20 DVDs worth of material. I can't find the time to watch even one lately.