Real Social Dynamics has a Summer Sale
If you're new here, you will want to sign up for my newsletter to get FREE dating ebooks and mp3s along with exclusive seduction tips and videos. Thanks for visiting!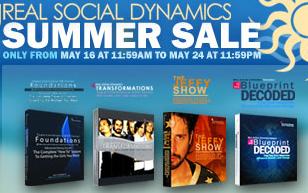 Real Social Dynamics are having a summer sale where you can get their Foundations, Transformations, The Jeffy Show and The Blueprint Decoded DVD/CD Programs all for under $1100.
$1100 might sound like a lot but this would be roughly the price of The Blueprint Decoded alone normally (the video part of that one program is 20 DVDs by itself).
On top of all this, you get a $400 gift certificate for one of their superconferences.
If you are not familiar with RSD, the company was started by Tyler Durden and Papa (a former University of Wisconsin student) as documented in The Game.
The deal ends Saturday May 24th at Midnight so check out the Real Social Dynamics summer sale now if you want to get in on it.
Otherwise, check out a Real Social Dynamics bootcamp in your area…