Do Pheromones in Right Guard Deodorant ATTRACT WOMEN?!
For years, pickup artist instructors have been promoting pheromone colognes that allegedly attract women like flies to cow shit…
Everyone from Ross Jeffries, to Johnny Wolf, and even Mehow have whored out pheromone products that boast lavish claims…
I've said my piece in the past regarding pheromones, you can read my 2 cents here or just read my 3 word summary below:
Pheromones are BULLSHIT!
For years you could only buy pheromone products by slimey mail order ads in the back of crappy magazines…
But starting today, a major company is selling a pheromone deodorant right on Amazon and at your local big box retailer…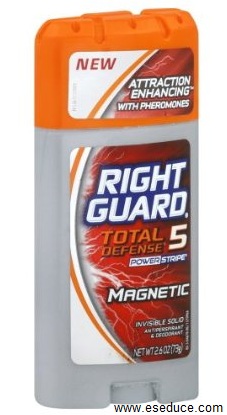 Dial Corporation (owned by Henkel AG) have released a new product called Right Guard Total Defense 5 Deodorant Magnetic Scent… there's also a Powerstripe Antiperspirant version too…
Sounds like your typical deodorant with a long, sexy name… but here's the kicker, on the top there's a sticker that says…
Attraction Enhancing with Pheromones
And on the back it reads…
Feel More Attractive

TD5 Powerstripe Deodorant Magnetic doesn't smell like magnets, but it works like them. After use, you could be attracting women and success for at least 24 hours. You've been warned.
Holy fuck, what a crock of shit!
Let's break down the vague marketing…
"Feel More Attractive" - What's this about me "feeling" more "attractive"? Aren't magical pheromone fairies supposed to fly out of my arm pits and shoot girls in the ass with a cupid's arrow or something? Shouldn't "women" feel more "attracted" to ME when I wear it?
"After use, you could be attracting women and success" - This has to be the most chickenshit vague statement ever made! The addition of the word "could" makes the statement completely meaningless. The wording is purposely open to interpretation, but they're obviously hoping you somehow make the positive correlation that "Right Guard Pheromones = More Pussy For You".
"You've been warned." - Oh Right Guard, you so witty with the backwards psychology! I be stupid consumer… talk down to me in your ads pleez.
So any way, shame on Dial/Henkel/RightGuard for resorting to this pheromone bullshit in a desperate attempt to be more "hip" to the male youth like Old Spice and Axe/Lynx…
About the only good thing coming from this is it's only $3.99 a stick, much cheaper than the ridiculously overpriced colognes that these PUA marketers are trying to shill…
In fact, it's about the same price as any other deodorant… so maybe it'lll cannibalizes the pheromone market…
Give it a try if you want, you can get it at Amazon here…
Then come back and give me your Right Guard Total Defense 5 Deodorant Magnetic Scent Review in the comment section below…
It's casual,
Mack Tight