Roosh V "Game" Book REVIEW (& Amazon Ban DRAMA)
Roosh V (Daryush Valizadeh) has a new book out called "Game". If you're not familiar with Roosh, he first started out as a pickup artist in the 2000's.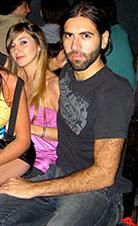 I first wrote about him in 2008 on this blog. I covered the release of his book Roosh V Bang. In 2009, I put him as #9 on my list of the top 10 Pickup Artists. The last I wrote of him was in 2011 where I republished an article of his about how to handle your anxiety when approaching hot girls.
Since 2011, Roosh has exited the "seduction community" and entered the "manosphere". In my opinion, he's basically become a feminist and liberal media shit stirring troll. He says something to trigger the feminist or liberal media.. they need a new target for content for their daily hitpiece so they can rack in more advertising dollars.. they write a rage piece about him.. he gets publicity.. and he in-return monetizes that publicity for himself. Rinse, wash, repeat.. over and over again. No matter how they try to portray each other as enemies, in reality they have a strange symbiotic relationship.
I haven't read any of his recent material, so I'm not trying to justify any of what he's said. He's rumored to have said some rather provocative politically incorrect ideals as of lately which I have no comment on. I've felt that he was a good writer in the late 2000's when he wrote about dating and picking up women. I have tried to watch some of his recent YouTube videos and I find him monotonous, boring and meandering. As online media goes from written to video.. I find that Roosh doesn't translate well. Just as video killed the radio star, vlogging killed the blogger (I know I shouldn't be the one to cast stones myself).
This Fall, Roosh released a new book called "Game". I was intrigued, is he going back to his pickup artist roots and dropping the whole feminist and liberal trolling? NOPE!
Here's how he describes Game on the Amazon sales page:
Game teaches men a 9-step program for meeting and attracting women in an age when smartphones, feminism, and anti-masculinity propaganda have made connecting with the opposite sex harder than ever.
I'm not going to lie, I'm just getting back into blogging about men's dating advice after 2 years off. A lot has changed in this supposed new "#MeToo" era. I want my male readers to adapt to the times. I DO NOT want them to whine and complain and make excuses and paint THEMSELVES as victims. I admit, some of the cards when it comes to dating ARE stacked against men. Certain elements are unfair, just as there are unfair dynamics for women. But c'est la vie, that's life. Suck it up buttercup! The reality is you cannot change others, you can only change yourself. So as the world changes, change yourself accordingly.
Roosh originally published physical copies of his new book "Game" through an Amazon subsidary called CreateSpace. CreateSpace apparently quickly determined it wasn't a book they want to publish. Such is their choice.
Roosh created several blog posts and videos whining about this. He appeared to compare it to censorship for people of the far right or manosphere. He used it to drum up publicity in those areas of the internet. It's hard for me to want to participate in his little pitty party.
I've seen numberous people purposely stir up shit for publicity in the past. They beg for people to write about them in a negative fashion. But when the heat get's too hot, they act like they are victims. This happened a few years back with the Julien Blanc/Real Social Dynamics stir-up. It's hard for me to feel sorry for these guys.
That being said, Roosh is a shrewd marketer. He wouldn't be as notorious as he is now without cracking a few eggs. Just don't whine to me when some of those cracked eggs end up smelling rotten.
In regards to Roosh's book "Game", he apparently has it back for sale on Amazon. He did it by using a 3rd party publisher instead of having the physical book created by CreateSpace. I guess it's a lot more sensational and sexy to say Amazon is straight up "censoring" you rather than the truth that one of their subsidaries just doesn't want to publish it themselves.
But this all gives Roosh a great "time constraint" for even more self-promotion. The book could still be "censored" again by Amazon any minute now. Says Roosh, "If you were waiting to buy the paperback, I would do so immediately in case the ban hammer returns."
So what is my review of the book? I have a feeling if your reading this post you set on what side of the fence or the other regarding him. Based on that, you are going to love it or hate it. No matter which side you are, thanks to Roosh's acute self-marketing.. you're likely to buy a copy to either praise or deplore.
It sure seems like that's the way the world works now a days. Everything is polarizing or else it's invisible. Everything has to be given a spin. You can fall into Roosh's trap by checking out his new book "Game" on Amazon.
It's casual,
Mack Tight
P.S. - And yes, I'm a giant hypocritical sell-out myself. This whole article is basically self promotion for myself and my blog with Amazon affiliate links in it. Everyone else is doing it, I just have the balls to admit it. Subscribe to my free newsletter for more material like this.