Roosh V releases the Bang Field Guide
If you're new here, you will want to sign up for my newsletter to get FREE dating ebooks and mp3s along with exclusive seduction tips and videos. Thanks for visiting!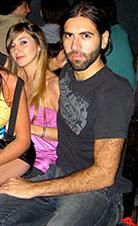 Roosh V really doesn't fit my impression of your typical pick-up artist. He is rather hairy and seems partial to wearing earth-tone t-shirts.
Roosh travels to and from Washington D.C. night clubs via subway and bicycle.
Roosh has traveled to countless countries and has documented his experiences with women from all over the world.
All this, along with his candid writing style, add to his overall "mystique" help to make him all the more interesting.
People seem to be curious about Roosh…they are looking for something "different" from the community and they think he may be it.
Now is the time to find out for yourself because he has taken everything he has learned on his journey on dealing with women from all over the world and put it in his book "Bang!"
Roosh claims the book can get you "more lays in 60 days".
I'm curious to see what new concepts and advice he has to offer so I got a copy of "Bang!" and will be reviewing it shortly. He seems to break free the "been-done-before" PUA mold in many ways, lets see if his writing can too.
Get your copy of Bang! now by clicking here...