Scot McKay releases The Leading Man
If you're new here, you will want to sign up for my newsletter to get FREE dating ebooks and mp3s along with exclusive seduction tips and videos. Thanks for visiting!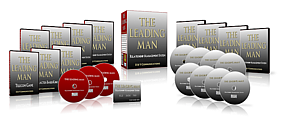 Scot McKay released a new product called "The Leading Man" this past Saturday.
Like Stephen Nash's How to get a Girlfriend, this product seems to be more focused on developing and maintaining a successful long term relationship with a woman just with a more polygamous twist to it.
Here's the description given for the product…
The comprehensive relationship management system from X & Y Communications.

Go way beyond pickup and seduction, discovering how to successfully build the lifestyle with women that you want.

Learn the art of balancing multiple long-term relationships. Effectively identify and select the greatest woman you've ever met, and do what it takes to have a great relationship with her from the very start.

Do you want to know what comes next after the first date goes well? Do you want to stop the "revolving door" of women in and out of your life after only a month or two of seeing them? If so, then The Leading Man is for you.

Includes 8 (Core Leadership, Dating Multiple Women, Long-Term Success With A Great Woman, Situational Conversation, Traps Women Set, Decoding Women (with quick reference), Crisis Management, Your Wildest Dreams Made Possible, and 3 bonus programs (Telecom Game, Character-Based Kino, and Round-Table Discussion With Three Women). Also included are more surprise bonuses at no extra charge.
You can find out more and get your copy by clicking here…