Secrets To Success With Women For Shorter Men REVIEW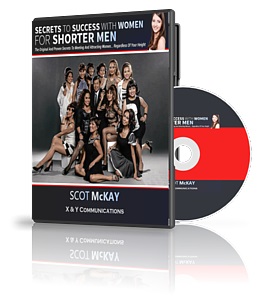 Secrets To Success With Women For Shorter Men is a men's dating advice audio program. It's by Scot McKay, a dating and relationship expert.
Scot's "vertically challenged". By that, I mean he's short. But he didn't let that stop him from meeting and marrying the woman of his dreams, his wife Emily McKay.
Is Secrets To Success With Women For Shorter Men a SCAM? Is Scot just a slick marketer who's just out to get your money?
Or will this program TRULY help short men achieve better success with dating and be worth a download?
In this Secrets To Success With Women For Shorter Men review, I'm going to give my opinion about Scot McKay's program.
Quick External Links:
* FREE Report About It.
* Skip To Checkout Page To Buy It.
Secrets To Success With Women For Shorter Men Review.
This program is in audiobook format. You download audio MP3 files. There's also a PDF ebook transcript if you prefer to read.
In addition, there's six bonuses. These bonuses include.
1) How To Date Taller Women (Report).
2) Get What You Deserve (Ebook).
3) X & Y On The Fly Dating Podcast: What A Woman REALLY Means When She Says She Wants A Man To Protect Her (Audio MP3).
4) Real Seduction: Interview With Joseph 'Thundercat' Matthews (Audio MP3).
5) How To Be Irresistible To Women (6-Part MP3 Audio Course).
6) Power Sessions For Men - One Month Trial (Audio MP3).
Here's the complete details on everything that's included.
Some of these bonuses are worthwhile. While others are nothing more than brief promotional reports/audio for other programs.
The sixth bonus, Power Session For Men, is a monthly subscription. You get the first month free, afterwards it's $27 per month. It is optional and you can cancel prior to being billed for the second month.
All in all, that's a lot of material for less than $20.
But is Secrets To Success With Women For Shorter Men REALLY any good? I mean, $20 is cheap for a men's dating product of this size. But paying $20 for a ton of horse manure doesn't make it a "deal".
Does Secrets To Success With Women For Shorter Men SUCK?
In this program, Scot doesn't dispute that height is one of many things that women find attractive. In fact, Scot starts off by giving some simple tips to look taller. Don't worry, Scot doesn't recommend "growth pills" or bone-breaking surgeries. It focuses on changing the way you dress. Simple things like the fit of your clothes and the pattern on your shirts can make you look dramatically taller.
I consider myself a fashion expert, and the tips Scot gives are spot-on. Things like the rise of your jeans or the stripes on your shirt can make you appear shorter or taller. It's easy to implement. You just have to go through your wardrobe. Donate what makes you look short. Then go shopping for new clothes that flatter you.
Next, Scot starts diving into the psychology short men have that prevents them from succeeding with women. Short men tend to use height as a "limiting belief". Being short doesn't automatically make you "undateable". In reality, there are many short men who ARE highly successful with women.
Scot also talks about things like the "Napoleon Complex". If you have it, you might be chasing women away. Scot tells you how to get past these psychological hang-ups that short men often have.
Then Scot gets "real". How do you try to meet beautiful women when there are intimidating bigger guys trying to "cock block" you? If you do date her, how do you make her feel protected knowing you lack the physicality? Scot gives a bunch of tips. Hint: it involves using your brains instead of brawn.
Finally, Scot talks about how to use your shortness to your ADVANTAGE. There's an old saying, "if you can't fix it, feature it!" Scot tells about the many BENEFITS of being short and how to feature the lack of height in a positive light to girls.
In conclusion, being tall IS something that women typically find attractive. BUT, height is not the ONLY thing! You need to learn how to adapt to your stature. Be comfortable with it. Accept it. Then start working on the many other traits that women find attractive.
There are many short men who are successful with women. They do not whine and make excuses about their height. They make the best out of it and use their advanced social skills to woo women.
I think that Scot McKay's Secrets To Success With Women For Shorter Men doesn't suck. It takes the proper route to help short men improve their dating.
Secrets To Success With Women For Shorter Men Review CONCLUSION.
For less than $20, Secrets To Success With Women For Shorter Men is a good deal. There's a lot of content.
I believe that it follows the right path to help short men at dating. First, fix what you can appearance wise. Next, fix the way you think about height. And finally, accept and take advantage of your situation.
Scot McCay has a great track record when it comes to giving dating advice. I've studied many of his other programs, and they are consistently good.
Are you short and not achieving the success with women that you want? Then this program is for you. Buying it is a no-brainer. For what it is, I give it 4 out of 5 stars.
You can read the free report on it or jump right to buying your copy at the lowest offered discount price.
Click HERE to learn more about it.
I hope you found this Secrets To Success With Women For Shorter Men review to be beneficial. Feel free to leave your own Secrets To Success With Women For Shorter Men review in the comments section below.
It's casual,
Mack Tight