Seduction MMA Review - Is Gunwitch PUA Download a SCAM?
If you're new here, you will want to sign up for my newsletter to get FREE dating ebooks and mp3s along with exclusive seduction tips and videos. Thanks for visiting!
There's been a lot of buzz lately about a new seduction program called "Seduction MMA" (click here to check it out) by Gunwitch PUA AKA Allen Reyes…
I've followed Gunwitch PUA for a long time, so I was interested in checking out his new program and to review it myself…
So is it ground-breaking way of getting guys laid and legit? Or is it a total scam? Let's find out in this Seduction MMA review…
Intro to Gunwitch PUA
Gunwitch has been in the "seduction community" for a long time. He posted on early forums and created products such as Gunwitch Method and Way of Gun…
The guy is interesting to say the least

He gives off the "crazy bastard" vibe at times. He was a popular guest on The Barry Kirkey Radio Show and had his own Witch60 / Witching Hour Podcast…
I've always liked him… he's got an inflated ego, but he comes off funny, honest, and knowledgeable…
He's since had a heart attack, shot a girl in the face and served jail time…
He copped a plea for "unlawful use of a weapon", released and now he's back to teaching guys how to pickup women…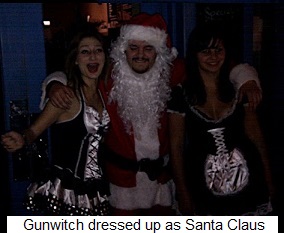 Intro to Seduction MMA
Seduction MMA is Gunwitch's new 10 hour long audio program…
It's contains 10 audio parts that cover beginner, intermediate and advanced game…
Here is what you learn (click on MORE links below to see everything):
Audio 1 – Introduction - A quick overview of what you are about to learn.
Audio 2 – Universal Understandings - Cold approaching vs st(MORE)
Audio 3 – Attention - How to open without knee jerk rej(MORE)
Audio 4 – Immersion - How to "hook" way more often tha(MORE)
Audio 5 – The Science behind it all - Just like it sounds. Sci(MORE)
Audio 6 – Key 1 Social Frame - What to say long term. Ways(MORE)
Audio 7 – Key 2 Emotional Stimulation - Further immerse her(MORE)
Audio 8 – Key 3 Sexual Attraction & Escalation - The verbal(MORE)
Audio 9 – Learning it all and extras - Wingman vs solo. How to(MORE)
Audio 10 - Venue Specifics - Strip clubs. The beach. Stree(MORE)
Gunwitch considers it an update to his old programs. He also says it's more comprehensive and focuses on more practical advice.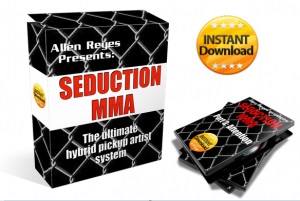 My Impressions
First, "Seduction MMA" has got to be the dumbest fucking name for a pickup artist product EVER!
Obviously he's trying to mooch off the recent success of mixed martial arts and the UFC…
He justifies the name by calling it a "The Ultimate Hybrid Pickup Artist System"… sure, whatever bro

Once you get past the stupid name, this is a really solid program…
At times, Gunwitch comes off as "simple" when he does podcasts… but this program shows that he really knows his shit when it comes to being social and attracting women (I think some of his persona during the podcasts are just an act to get attention and be entertaining…)
I like how Gun covers a bit of everything and doesn't get too deep into "theory" and rhetoric…
There's a lot of pickup scenarios covered and Gunwitch gives a lot of examples…
I think the biggest concerns most guys would have with the product is…
1) the price
2) is it a rehash of his old products?
The price may seem steep to some, but you get a lot… and there's no hidden bullshit charges like with some of these other seduction products…
As for it being Way Of Gun regurgitated, I will say 'sure' - some of it is the same… but there's enough new and expanded material to make this worth getting if your a former customer… You have to keep in mind that his last product was released over 6 years ago and things have changed since then…
Will Seduction MMA Work For You?
Yes…
The advice is very practical and applicable to everyone, even those living in small cities…
(I fucking HATE other PUA's whose advice is only applicable to people who live in big cities like NYC or L.A…)
Gun does a good job of covering it all… from beginner to advanced… from daygame to night game… from cold approaching to social circle game…
These techniques are universal…
No matter what your age or lifestyle… you'll probably get good results from it…

Conclusion
Seduction MMA is a solid program…
I think it's definitely worth your money to download and is NOT a scam…
You'll learn a lot of dating and PUA tips… and ENJOY listening to it…
And if by some bizarre reason it doesn't work for you… there's a "RISK-FREE 30 DAY GUARANTEE"…
So you really have nothing to lose…
So I DO recommend you get the program…
And to make it even better… I've got this special link where you can get it at the lowest price offered AND with an EXTENDED 60 DAY GUARANTEE…
Get the program at the LOWEST PRICE here…
Hope this helps you make your decision…
It's casual,
-Mack