Sexual Aggression Mastery (Review) - Ross Jeffries newest Speed Seduction Product
If you're new here, you will want to sign up for my newsletter to get FREE dating ebooks and mp3s along with exclusive seduction tips and videos. Thanks for visiting!
Ross Jeffries, creator of Speed Seduction® has just released a new program called Sexual Aggression Mastery…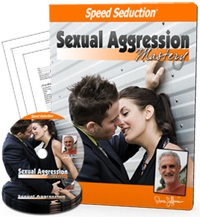 You can check out the program here…
So Ross already has like a BILLION programs… what is so special about this one?
Well, Ross says Sexual Aggression Mastery is all about "turning things sexual" with women…
He also says it is about getting past HER resistance to having sex and YOUR own personal sticking points which are keeping you from having more sex…
I've studied similar "sexual attraction" themed products in the past, most notably Jon Sinn's Seduction Roadmap program…
I think these programs are important because I see so many guys with social and sexual anxiety who want to become more successful with women… but they follow the Mystery Method's "indirect" ways and get stuck in the friend zone because they are not used to turning things sexual later…
Here's some more quick facts about the program:
* The price is $197 (or 3 payments of $66)
* It is Ross's first "instant access" program (no more DVD's)
* It comes with the following free bonuses:
- Destroying Approach Anxiety (Video Program)
- Day Game Mastery (Video Program)
- $1 Trial to Ross Jeffries Coaching Program
* 90 day money back guarantee
If you haven't gotten a Ross Jeffries program before, you might want to start with his Training Vault first… it's the same price but it's much bigger and covers a broader range of topics (with 120 videos, 48 mp3's and 168 pdf's)…
If you already have his Vault program, I think the Sexual Aggression Mastery would be a wise purchase…
It's a pretty good deal, especially with the bonuses and guarantee…
~~> Watch Ross's FREE Video about the program right NOW by clicking here…
It's casual,
Mack Tight
P.S. - Ross has one of the best sales lines ever for a dating program…
"Get Past The STUCK Point And Get To The F*CK Point With… Sexual Aggression Mastery!" Priceless

Check it out here…