Sexual Power Words Review - READ BEFORE BUYING!
If you're new here, you will want to sign up for my newsletter to get FREE dating ebooks and mp3s along with exclusive seduction tips and videos. Thanks for visiting!
Sexual Power Words Ebook is a new seduction program by dating coach Nick Richards…
This book focuses on giving guys sexual words to say to girls that will supposedly "get them laid"…
So does the Sexual Power Words ebook work? Is it a SCAM? Or is it worth a buy and download?
I'll answer those question's and more in my NO BULLSHIT Sexual Power Words Review below….
Quick External Links:
* Sexual Power Words Sales Video
>>> SPEEDY OVERVIEW <<<
What's Included: 206-Page PDF Ebook
Cost: Click to see lowest offered price with optional "Mojo Masters" membership at $49.95 per month for eight months
Author: Nick Richards
Guarantee: 60 Days Money Back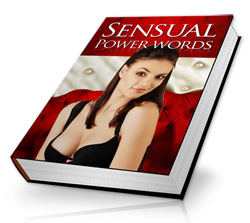 Let me be honest, this program initially seemed to be very similar to another popular men's dating program called Pandora's Box by Vin DiCarlo…
Pandora's Box claims to get you laid by asking girls 3 "special questions"… while Sexual Power Words claims to get you laid by using 3 "power words" in a conversation with a a girl…
The general concept seems to borrow HEAVILY from it if you're asking for my 2 cents…
When I actually read the ebook… it is not the same…
It starts off a bit slow with a chapter about "grooming andl hygiene" (take a bath… comb your hair… ZZZZzzz!!!!!)
But then it progressively bumps up to more sophisticated stuff…
Oddly, the beginning half of the book are all about "inner game" and understanding how women think…
There's a lot of stories about how Nick learned about dating from watching his "natural" friends and copying what they did…
Nick Richards seems to advocate being "natural" and going with the flow with women, rather than using pickup lines and routines…
He also goes a bit into social circle game and being an "alpha male"…
Basically the beginning of the book is a overview of introductory pickup artist advice to get you started…
He then gives you some advice on changing your voice tone and conversation tips…
On page 130, he gets into talking "emotional" with women and how to tell stories that amuse and attract women…
On page 152, he goes into talking sexual with women…
AND FINALLY ON PAGE 173… he goes into the SEXUAL POWER WORDS…
There's roughly 50 phrases/words he gives… you gotta buy it to learn them all… but one of them is my last name

He then gives you examples, phrases, themes and contexts on how to combine and use the ~50 "sexual power words" to make women "dripping wet"…
Some of his phrases mimic Ross Jeffries' Speed Seduction teachings… others seem similar to advice given by dating coach Jon Sinn in the past… and some of it is new to me…
Basically, he suggests subtle under-the-radar playful sexual talk with women…
It's a good read… just don't expect 200 pages solely of sexual phrases to use on girls or else you'll be disappointed…
Think of it as 33 pages of sexual power words and 173 pages of solid men's dating advice & tips…
Watch a video about it by clicking here…
What I Like About Sexual Power Words…
1.) the price is reasonable
2.) lots of pages covering a lot of seduction, sex and dating advice
3.) well written and easy to read
What I DON'T Like About Sexual Power Words…
1.) takes a long time to get to the actual sexual power words
2.) some of the advice and marketing seems "borrowed"
3.) optional "Mojo Masters" continuity costs as much as the original program per month
>>> CONCLUSION <<<
The promotional video talks a lot about these "innocent" words that will make girls "instantly fuck you"…
But in reality, this program is primarily a general introductory book on developing a good dating mindset…
At the end, it does give you a template and examples on how to talk sexual with a woman without raising her red flag…
As long as you keep that in mind going in and consider all the other dating advice as an added bonus… this program will make you happy…
It's well laid out and the writing style is easy to understand and fun to read…
If I was you, I'd get a copy and check it out… there's a 60 day money back guarantee…
You might want to uncheck the box next to the "Mojo Masters" at checkout… otherwise you'll be charged for it in a couple weeks…
Otherwise, you can keep it checked and try it out… just remember to cancel your membership if you don't like it…
So go get your copy now if you want…
Hope this review helps you make a better educated decision on if the Sexual Power Words ebook is worth getting for you…
Do me a favor and like this Sexual Power Words review on Facebook or Google+ if you think it's a FAIR and UNBIASED review…
It's casual,
Mack "NO BULLSHIT" Tight

P.S. - Here's the links again if you are interested - watch the free video or buy it right away at the lowest offered price here…