She's Six Steps Away Review ~ Download Eric Disco's Ebook
I find that approach anxiety, or social anxiety, is the biggest problem among men seeking dating advice. To make matters worse, it's also one of the hardest problems to treat and fix.
For that reason, I always make it a point to check out any new approach anxiety or inner game programs. Recently, Eric Disco released his long awaited She's Six Steps Away ebook and I felt obligated to buy and review.
You can download your copy of it here…
So will She's Six Steps Away cure your approach anxiety? Should you buy and download it? Or is it just a rehash or scam?
Keep reading for my She's Six Steps Away review…
Who is Eric Disco?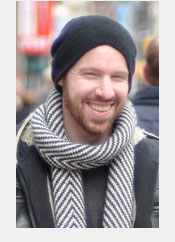 Eric Disco is a dating coach who specializes in day game, fashion and helping guys with approach anxiety. In fact, for 6 years he's been running a blog strictly dedicated to approach anxiety.
In addition to his personal endeavors, he's also a senior instructor for Lance Mason's Pickup 101 and works with some of biggest name dating gurus in New York.
It's only fitting for him to create a program about overcoming the fear of approaching women.
Learn more about Eric by reading his bio here…
What is Included in She's Six Steps Away?
She's Six Steps Away is a 164-page pdf ebook that teaches Eric's 'The Six Step Method' to curing approach anxiety. Each step takes a week to learn and to get good at.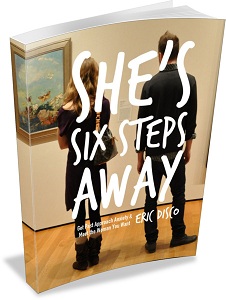 They include:
Week 1: Acclimate Yourself to the Environment
Week 2: Eliminate Your Hesitation
Week 3: Destroy Outcome Dependency
Week 4: Escalate the Interaction
Week 5: Have Meaningful Conversation
Week 6: Get Her Hooked on You
There's also two bonus special sections:
Special Section: Unstoppable Direct Opening
Special Section: Embarrassment and Rejection
Along with the book, there's also over 11 hours of free bonus MP3 audio including…
Bonus #1: In-Field Audio Demonstrations of Interactions with Women (over 3 hours of MP3's)
Bonus #2: Masters of Approaching - The Interview Sessions (over 8 hours of MP3's)
The Masters of Approaching Interview Sessions includes audio interviews with some popular dating gurus including Brad P and Lance Mason.
See everything that is included in this program here…
My Conclusion
I had my hesitations…. but this is an awesome program. It's easy to understand and follow. Most importantly, it gets positive results with even the shyest of guys. Eric clearly understands the issues men go through with approach anxiety.
This book does a great job at attacking the root cause of approach anxiety head on. Eric uses hints of cognitive behavioral therapy and mental reprogramming to accomplish this.
At step 5, he shifts gears to give the reader social calibration tactics. Once the fear and anxiety is gone, these tips will help men talk to women comfortably and build attraction.
Some may find the cost a bit pricey, but I think it is quite fair considering the 11+ hours of audio bonuses. Other authors would charge less for the book but then charge you more or a monthly fee for the Interview Sessions. You'd then have to wait a long time to get all the interviews and end up paying 3x as much for it all. Eric makes it easier by putting everything upfront in a reasonably priced package rather than hammering you with pricey "upsells" or subscriptions later.
There's a 60 day money back guarantee. This should give you piece of mind when ordering.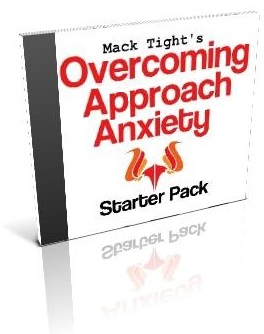 And to make things even better, I'm offering my 'Overcoming Approach Anxiety - Starter Pack' to anyone who purchases Eric's ebook through any link on this site. My Starter Pack is a $47 value and includes killer audio advice to help you approach hot girls like gangbusters. Just go to this link to claim your free bonus (use the same email address used to purchase Eric's ebook).
So in conclusion, I recommend that you…
1.) Buy Eric's book here…
2.) Claim your free exclusive bonus of mine here…
I think this is a solid program that will help guys with their approach anxiety issues.
It's casual,
Mack Tight

CLICK HERE TO DOWNLOAD!