Should Men Dye Their Grey Hair?
If you're new here, you will want to sign up for my newsletter to get FREE dating ebooks and mp3s along with exclusive seduction tips and videos. Thanks for visiting!
Men dyeing their grey hair is like Fight Club… they don't talk about it in public…
I've never seen a pick-up artist instructor or dating coach mention it…
So should you start dyeing your grey hair?
Is their any "rules" for when you should or shouldn't?
Is their an age where it becomes inappropriate?
There's no cut-and-paste answer…
But if you ask me, it's a matter of personal preference…
Everyone's going to have an opinion for you…
"Grey makes you look noble and distinguished, just look at George Clooney"…
"Grey just makes you look OLD… fight nature and look younger by buying a box of Just For Men"…
In reality, the only opinion that matters is YOUR OWN…
MY STORY…
So what's my experience?
I'm in my mid-30's… and have dark black hair…
I have probably 5% grey hair, and it really stands out…
So do I dye my hair?
Hell yes!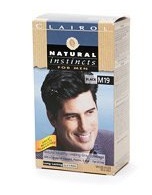 After each haircut, I get out my trusty box of Clairol Natural Instincts for men and paint my grey hairs black…
And I think nothing of it…
People can call me "fake" or say that I'm trying to cheat nature… but who isn't?!?
In a world of botox, boob jobs & face lifts… is dyeing your hair really that big of a deal?!
The reality is, some of the pigment cells in my hair follicles have died…
For some guys, these cells die in their 20's… for the lucky few, they NEVER die…
But I can easily order a $7 box of hair dye from Amazon to do what those pigment cells did with no worries… so I do it!
I've never had younger women say it looks "fake" or question me dyeing my hair…
Women dye their hair ALL THE TIME…. they understand!
Basically, only family and friends try to give me crap about it… but they end up speaking to my breeze when they do

Should you dye your grey hair too?
That's up to you…
But don't feel "afraid" to NOT do it…
Sure, people will give you shit the first day you show up to work with your hair a different color…
But FUCK THEM… it's YOUR hair, not THEIRS!
Usually those who cast stones just plain wish they had the BALLS to start dyeing their hair too…
Or else they live in glass houses and are probably more guilty of trying to fight aging than you are…
If dyeing your grey hair makes you FEEL younger and more confident… do it, do it RIGHT NOW!
The Future For Me…
I picture myself dyeing my hair into my 40's…
Will I still dye my hair into my 50's?
Who knows…
I do think that there's a certain point where I'll just let it stay grey…
But I'm not going to let society or others PRESSURE me into doing anything I do NOT want to do…
Maybe I'll be 80 years old and wear a crappy toupee that looks like it has black shoe polish on it…
People will point and laugh at me…
But if I LIKE it… FUCK 'EM!
CONCLUSION…
Dyeing your grey hair is a personal preference…
Do not let others decide for you!
There's nothing wrong with trying to look better cosmetically…
To me, it's no different than getting braces for your teeth… just easier and cheaper…
Give dyeing your hair a try once, you'll know if you want to keep doing it after a month…
If you don't like it, let it go grey again and people will forget you ever dyed it…
And if you do, I've used them all & highly recommend Clairol Natural Instincts…
It works better than Just For Men if you ask me, and you can use one box for several applications unlike with the others…
Check it out at Amazon for more info…
If you want more fashion advice…
It's written by a famous pickup artist instructor who really knows his stuff…
Men of every age will learn the very best advice on how to dress to attract women…
Simply, it's a MUST HAVE for any man seeking fashion advice…
It's casual,
Mack Tight