Sinn Infield Insider September preview video review
If you're new here, you will want to sign up for my newsletter to get FREE dating ebooks and mp3s along with exclusive seduction tips and videos. Thanks for visiting!
Sinn was featured in the September edition of Mehow's Infield Insider…
Yes, I know that I'm a month late with this… I suck!
Let me shine some light on why Sinn being in a Mehow product is so interesting….
A while back Sinn called out Mehow for being unqualified to teach pickup by bringing up Mehow's then supposed lack of experience, particularly pointing out Mehow's admittedly paltry number of lays during a certain time frame.
On the flip side, many have declared that Sinn was a bit "difficult" back in the day.
The two debated back and forth before eventually making up…
Now it seems like they cannot sing the praises of each other enough on their blogs…
In fact Mehow just made a post on his blog declaring…
Sinn has done a complete and total 360 from the old days.
360?!?! Doesn't he mean 180?
I digress…
So now we get Sinn in Mehow's September edition of Infielder Insider…
Unfortunately Mehow quit putting the short video previews for each month on his YouTube account.
That means I cannot embed the video here and you are forced to click here and scroll to the bottom to watch the 3 minute preview video.
Did you go watch it yet?
I'm going to give my comments next and spoil it now if you haven't.
You've been warned you!
I have always been supportive of Sinn on this blog (except for the whole Matador wig bit)…
I've enjoyed his many lay reports and have heard good things about his just releaded Lay Reports Book…
I have been waiting to see him infield for some time…
I think many have…
and let me hit you with my very first observation when watching this…
Is it just me or does Sinn seem to be rocking a bit of the "gay voice" when infield?!?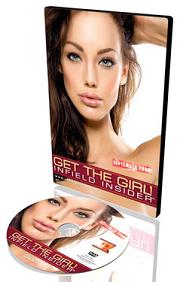 For some reason I thought he would be spittin' testosterone and cavemanning women…
Instead he was singing Journey and calling girls "herds".
He wasn't bad, just completely different than what I expected.
He reminded me of Mehow with a touch of Cajun at the very end.
I know this is only a very brief clip so it's impossible to form any real conclusions about Sinn from it…
Obviously the purpose of it was to try to get us salivating about buying the whole DVD…
Did the video trigger your curiosity?
I know I'm curious…
Mehow is offering the current episode for free to new subscribers, you just need to pay $9.95 for shipping…
So get the full DVD at Mehow's Infield Insider site now while Sinn's is still the most current episode…