Social Momentum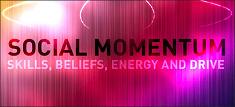 Christian Hudson of The Social Man has recently started a new subscription program called Social Momentum.
It seems like every seduction company has to have their own monthly subscription service, from Vin DiCarlo Mastermind to Brad P. 30/30 Club to David DeAngelo Interview with Dating Gurus to Mehow Infield Insider…
The market is crowded but I think Social Momentum stands out on several factors…
Price
In my Brad P Interview, he mentions that his 30/30 Club is an economical alternative to taking a $1500+ boot camp. It may be cheaper but $70/month is still quite a bit in my book…
Social Momentum on the other hand is $29.97/month. I can wing that…
In the first month you will also receive access to the Openers and Escalation collection of the Hidden Mic Pickup program which alone normally costs $19.97.
Consistent Quality Content
My problem with many of these subscription programs is that they really don't tell you what you'll actually receive every month. There's vague references to getting audio, video and/or books. If I'm paying $70 I want DETAILS!
Christian makes it extremely clear that if you subscribe to Social Momentum that you will receive access to three 30 minute podcasts per week for three weeks of that month. That is a total of 4 1/2 hours of audio for around $30 which sounds extremely reasonable to me.
Christian also has a schedule of when you get the content and who is involved…
Each day the podcast will be available at 6AM EST. On Mondays you will get a podcast done with Stephen Nash, on Wednesdays it is a podcast done with David AKA "Asian Rake" and on Fridays it is a podcast done with Nick Sparks (instructor of their Sparks of Attraction bootcamps). That's a very diverse group of gurus to learn from, each with their own strengths and specialties to help you with.
These gurus work for The Social Man and have biography entries on the company's main page so you are not going to be paying your money to hear a smattering of generic questions being asked to them where their ultimate goal is to just promote their own company or products like with many of David DeAngelo's products.
If you aren't familiar with Christian, he has a track record of putting out quality material that focuses on you becoming more successful socially. His involvement with Conquer Your Campus is a prime example. With it, Mark Redman PUA and him defined how college guys can network to make friends and be the dominating social Goliaths that all the women want to be with. I would only expect more of the same with even greater detail and focused at a broader audience with Social Momentum.
So those are my basic opinions of the program. I think it looks like a solid program that addresses some of my issues with a lot of the other subscription services that are presently available in the market. I think most will agree with me here…
If you want to subscribe or learn more about it click here to visit their site…