Social Superstar Book by Bobby Rio of TSB Magazine
If you're new here, you will want to sign up for my newsletter to get FREE dating ebooks and mp3s along with exclusive seduction tips and videos. Thanks for visiting!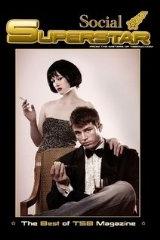 Without a doubt Bobby Rio from TSBMag.com is one of my favorite guys associated with the seduction community…
…and I'm happy to tell you that Bobby has finally came out with his own book called "Social Superstar".
You can order it right now by clicking here…
I have not read it yet but here is the description for it:
The ultimate men's guide to being the Social Superstar. Over 350 pages of timeless advice on climbing any social ladder, attracting more women, and living the life you've always dreamed of. This book also contains the previously never before released 11 year old "Confidential Social Intelligent Manuscript." This 100 page manuscript reveals the dark and hidden arts of personal magnetism.
Check it out and read a book by a guy who truly lives the life he preaches about… unlike most of these dorky marketers!