Spycam Seductions Rereleased by Pickup101
If you're new here, you will want to sign up for my newsletter to get FREE dating ebooks and mp3s along with exclusive seduction tips and videos. Thanks for visiting!
Last year Lance Mason's Pickup 101 released Spycam Seductions and it quickly sold out.
It is a huge 8 DVD program full of infield approaches and pickups along with commentary by Lance Mason, Sean Messenger and other Pickup101 instructors and students…
It took 3 years to film and includes 12 hours of video…
For its one year anniversary, they are re-releasing it again for only a four day period.
That means it is only available now until this Friday November 21 it was extended until Tuesday November 25…
Click here to check out their site for it…
Here's a 10 minute preview video for Spycam Seductions…
In addition to the 8 DVDs, the Spycam Seductions rerelease includes 10 bonuses including DVDs, CDs and books…
Here's a picture with everything offered in the program…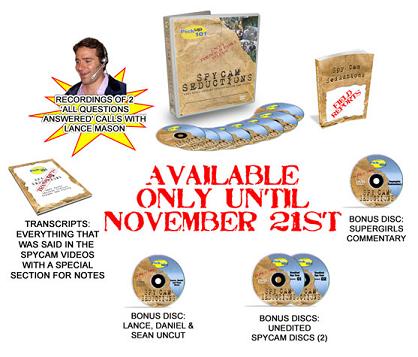 Click here to find out more about it…
Remember that it is only available until Friday Tuesday and then it will not be available again, so you need to order it now…